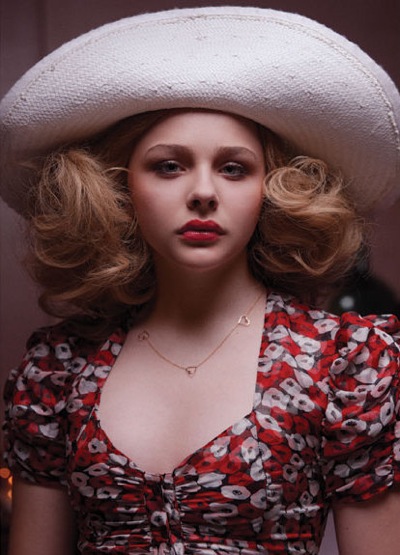 Beaks here...
A funny thing happened while Antoine Fuqua and Denzel Washington were reading actresses for the role of Teri, a twentysomething prostitute, in their big-screen take on THE EQUALIZER: a sixteen-year-old rising star came in and destroyed her competition. Now they're reconfiguring the role of Teri for Chloe Grace Moretz, who seems just about unstoppable nowadays.
Jodie Foster in TAXI DRIVER is the obvious point of reference here, and, as you can see above, Moretz already paid homage to that iconic performance in a photo shoot for Harper's Bazaar. While I've heard very good things about Richard Wenk's screenplay, I don't think we should be expecting a DeNiro/Foster-level pairing with this one. This is a mainstream action flick that's intended to launch a new franchise for Washington. But these are two fine actors in their own right, so who knows?
Moretz recently booked roles in DARK PLACES (alongside Charlize Theron) and LAGGIES (a Lynn Shelton-directed drama with Keira Knightley, Sam Rockwell and Mark Webber). You'll see her later this year in Kimberly Peirce's remake of CARRIE, and once again as Hit Girl in KICK-ASS 2.