Movie News
MEDIEVAL TIMES: THE MOTION PICTURE!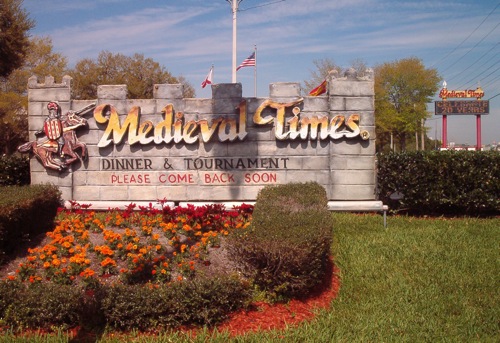 Beaks here...
A few years ago, a producer friend of mine told me that one of the studios was very seriously considering making a film based on the Jolly Green Giant. It was pure corporate thinking: several generations of people have grown up eating Green Giant frozen vegetables, and with that kind of crazy brand recognition, awareness would be through the roof! Of course, no one had any idea why people would want to pay money to see a movie about a frozen food pitchman; they just saw a well-known brand that could be profitably exploited in another medium.
So I'm actually not shocked that, according to Deadline, production companies Benderspink and Broken Road are looking to make a movie based on Medieval Times, the novelty restaurant where you eat with your hands, guzzle mead and watch knights joust on real horses. Is it the dumbest idea I've heard since the Jolly Green Giant movie that was thankfully never made? Absolutely. But it was only a matter of time before some brand-happy bastards moved forward on a ludicrous project like this. I'm sure the producers' defense will be "It's just a way to make a really cool, big-budget medieval adventure at a major studio." Fair enough. And I do recall expressing outrage when Disney started making movies out of amusement park rides a decade ago. Sooner or later, the shock will wear off, and most people will get used to movies based on chain restaurants (which I suppose makes MAC AND ME the most prescient film of the 1980s).