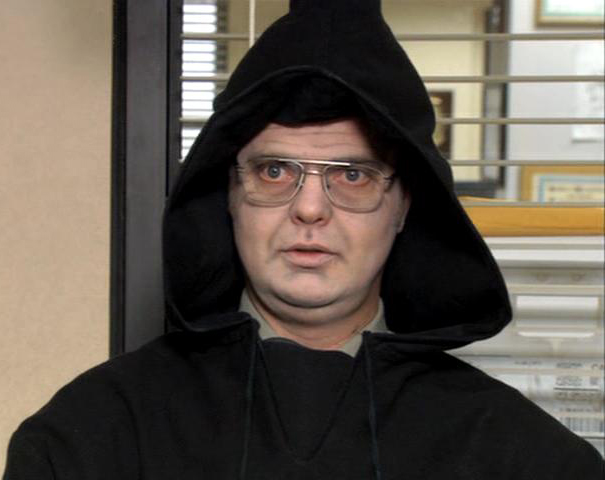 As rumors swirl that Steve Carell will have a cameo (after all) in next week's finale of NBC's "The Office," NBC announced Tuesday that the series' last episode would run 75 minutes.
But fans of local news needn't fret. That night's episode of "Hannibal" will then fit into the 45-minute timeslot that follows simply by jettisoning almost all of its commercials. Sources close to the situation confirm to Ain't It Cool exclusively that no part of the episode, titled "Fromage," will be cut.
This could bring a nice shot in the arm for "Hannibal" (which rose a bit in the ratings last week), as "Office" viewers may not so keen to switch over to an episode of ABC's "Scandal" already in progress.
The finale will leap ahead several months, after the 10-years-in-the-making documentary-within-the-show "The Office: An American Workplace" has finally made Dwight Schrute, Michael Scott, Kevin Malone, Angela Martin and Kelly Kapoor at least as famous as The Grassroots guitarist Creed Bratton.
The episode will depict many of the series' characters reuniting for a wedding, presumably Dwight's.
Returning for the finale are Mindy Kaling (Kelly Kapoor), B.J. Novak (Ryan Howard), Andy Buckley (David Wallace), Bobby Ray Shafer (Bob Vance), Matt Jones (Cousin Zeke), and Mike Schur (Mose Shrute).
Other guest stars will include Rachael Harris ("Fat Actress"), Dakota Johnson ("Ben & Kate"), Joan Cusack ("Shameless"), Ed Begley Jr. ("Veronica Mars," "Family Tree") and Malcolm Barrett ("Better Off Ted").
The finale will air 9 p.m. May 16, following an 8 p.m. series retrospective
Press release!
LAST EPISODE OF 'THE OFFICE' EXTENDED AN ADDITIONAL 15 MINUTES

Series Finale Will Now Air 9-10:15 p.m. on May 16, Giving Fans Longer Chance to Say Goodbye

UNIVERSAL CITY, Calif. — May 7, 2013 — NBC is extending the length of the final episode of "The Office," with a running time that will now extend from 9-10:15 p.m. ET on Thursday, May 16.

Drama "Hannibal" will follow the series finale of "The Office," airing from 10:15-11 p.m. ET with limited interruption.

As for the final episode … months after the airing of the documentary, the workers of Dunder Mifflin, past and present, gather for a wedding and a final round of interviews. Mysteries are solved, hatchets are buried, pranks are prunked. Guest stars include Mindy Kaling, BJ Novak, Rachael Harris, Dakota Johnson, Joan Cusack, Ed Begley Jr., Malcolm Barrett, Matt Jones, Andy Buckley, Mike Schur and Bobby Ray Shafer.

The series Rainn Wilson, John Krasinski, Jenna Fischer, Ed Helms, Catherine Tate, Leslie David Baker, Brian Baumgartner, Kate Flannery, Angela Kinsey, Oscar Nuñez, Phyllis Smith, Paul Lieberstein, Creed Bratton, Craig Robinson, Ellie Kemper, Clark Duke, and Jake Lacy.

Since its premiere on NBC in March 2005, "The Office" has established itself as a genuine hit, earning prestigious television honors such as the 2006 Emmy Award for comedy series, 2006 Peabody Award, 2006 and 2008 AFI Honors, Producers Guild Award, Writers Guild Award, SAG Award for performance by an ensemble in a comedy, Ace Eddie Award for editing and a Television Critics Award for achievement in comedy.

"The Office" presents a hilarious documentary-style look at the humorous, and sometimes poignant, foolishness that plagues the 9-to-5 world. Based on the award-winning BBC hit, "The Office" is a fly-on-the-wall "docu-reality" parody of modern American office life that delves into the lives of the workers at Dunder Mifflin, a paper supply company.

"The Office" is executive-produced by Ben Silverman and Greg Daniels, who developed the series for American audiences, as well Paul Lieberstein, Ricky Gervais, Stephen Merchant, Howard Klein, Brent Forrester and Dan Sterling.