Glen here…
…with a quick, SPOILER FREE review of this week's DOCTOR WHO S7B installment, The Crimson Horror. To get one possible misconception out of the episode out of the way right off the bat, and because SOMEONE's likely to say it at some point anyway, let it be known that The Crimson Horror is NOT about a menstrual cycle - although it does feature a a different lady who is severely moody.
More on TCH below, but first...
A NEW WHOTININNIES IS COMING HERE!
Links to last week's show, in which...
** Ken and Glen discuss Journey to the Centre of the TARDIS
** Address recent theories/rumors about that SFX picture of John Hurt from the 50th Anniversary episode shoot.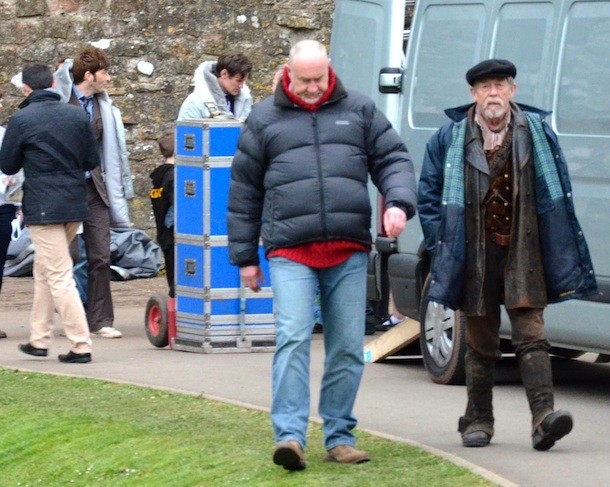 Could he be a 'missing' Doctor...a 'banished' Doctor?...one we've never heard about? After all, we never pointedly saw the Doctor who regenerated into Eccleston's variant. Maybe this was a move to plug the hole left by Eccelston's apparent non-involvement in the 50th?
** Ken and Glen expand their ongoing Deependers Amy/Rory in the 1930's sitcom, with Davros now appearing as the nosey, intrusive, bitchy landord and Adric being cast as the annoying and slippery neighbor.
** Ken tries to rap while Glen beatboxes - both quite poorly.
** and more!
...can be found HERE.
Links to THIS WEEK'S show, featuring The Crimson Horror, Ken & Glen pondering the 50th Anniversary set photos seen below, IRON MAN 3 & it's fucked-up, shoddy international versions, and Glen sending Ken into a nervous breakdown by asserting that TRANSFORMERS isn't a particularly lofty concept when one really thinks about, can be found HERE!
DOCTOR WHO'S NEW EXECUTIVE PRODUCER...
BBC has announced the new Executive Producer of DOCTOR WHO, stepping in for the outgoing Caroline Skinner. Brian Minchin has landed the gig...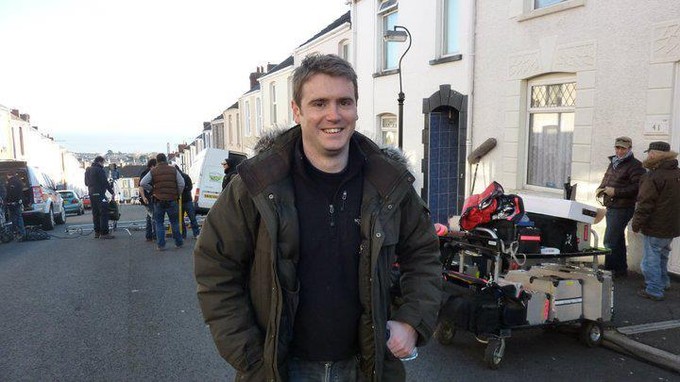 ...and will be working alongside Steve Moffat. He's currently onboard THE GAME, a new Cold War thriller from frequent DOCTOR WHO scipter Toby Whithouse (The God Complex, A Town Called Mercy).
Minchin is no stranger to either DOCTOR WHO or genre work in general; he's previously served as Script Editor on Moffat-era WHO, was a Producer on DW's TORCHWOOD and THE SARAH JANE ADVENTURES spinoffs, as well as producing WIZARDS VS. ALIENS (from previous DOCTOR WHO showrunner Russell T. Davies).
The seventh Season/Series of DOCTOR WHO concludes in two weeks with an episode called The Name of the Doctor. Iterations of the show will return later this year to commemorate DW's 50th Anniversary, including a blow-out (feature length?) episode, a TV docudrama exploring DW's fascinating formative years at the BBC, and (presumably) the traditional Christmas Special.
INTERESTING S7 FINALE TIDBITS - MINOR SPOILERS!!
A Moffaty quote from DOCTOR WHO Magazine...
We've only just finished shooting the actual completed ending – it's ridiculously secret – but it's quite a thing, hopefully. There's often an element of throwing in some lovely names, and then figuring it out later, but I've always had a sort of plan for the Doctor and Trenzalore. Things will be resolved. Things I've left hanging in plain sight – and sometimes not in plain sight – will be tied up...
Meanwhile, viaDoctorWhoTV, here are a few more tidbits from the S7 finale [also gleaned from DOCTOR WHO Magazine]...
** A line from the Doctor: "The path I carved through time and space, from Gallifrey to Trenzalore. My own personal time tunnel, leading back to every moment I ever lived. Every step, every tear, every kiss. Even the days I haven't lived yet. Which is why I shouldn't be here. The paradoxes… very bad…"
** Richard E Grant is back as Dr Simeon ("Hello again," says the Doctor. "How's the Intelligence – still Great?")
** Will we, at last, learn the true identity of Clara Oswald, the impossible girl? Spoiler: yes!
Interesting set photos/video from the shoot of the 50th Anniversary episode [via DoctorWHoTV ]...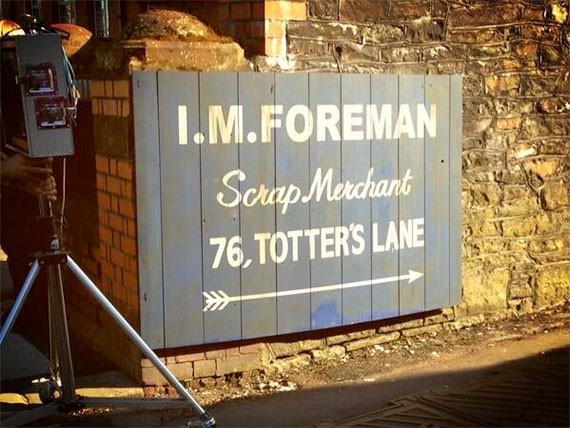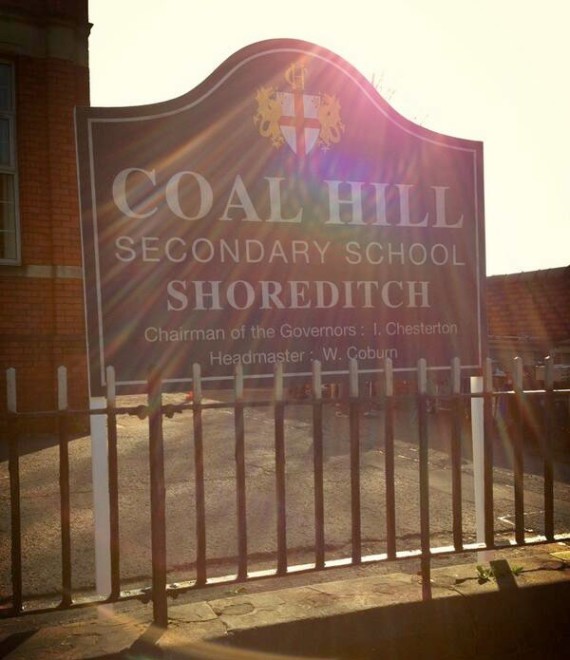 THE CRIMSON HORROR (SPOILER FREE Minireview)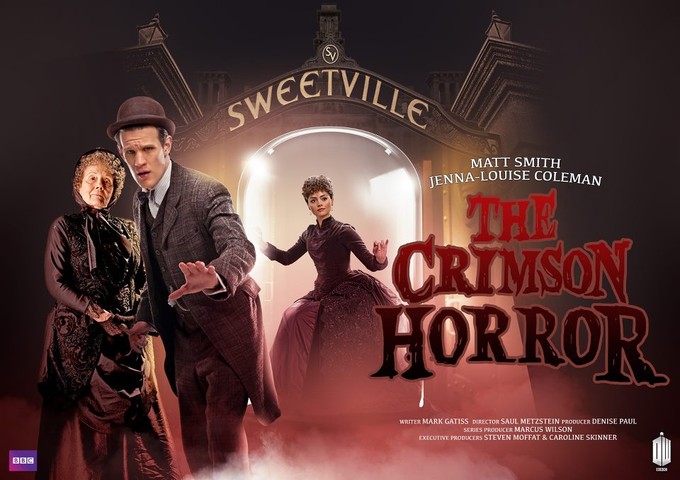 Those who've previously expressed interest in a DOCTOR WHO spin-off series featuring Madame Vastra (Neve McIntosh), Jenny (Catrin Stewart) and Strax (Dan Starkey) won't exactly find as much this weekend, but Crimson Horror may well prove next best thing. The diverse and dynamic trio are featured more prominently (and integrated more fully) here than ever before - resulting in a tale which remains distinctly WHOverse, while also sporting a unique vibe.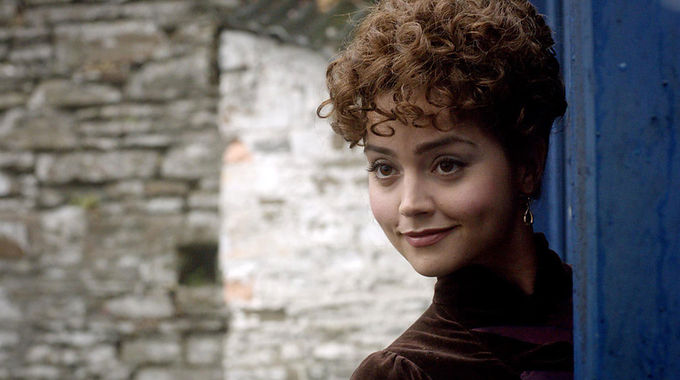 The very structure of scripter Mark Gatiss (Cold War, Night Terrors)'s narrative shakes up the established WHO formula a bit, and director Saul Metzstein (Dinosaurs on a Spaceship, A Town Called Mercy, The Snowmen) brings to bear no small portion of his trademark visual flare. Resulting in slick and brisk business which feels wonderfully balanced and organic, despite its unusual trappings.
Dame Diana Rigg appears as the charismatic and imbalanced Mrs. Gillyflower (I'm not revealing a spoiler here - that she's whacked becomes self-evident very quickly) - Rigg seems to become increasingly invested in her role as the episode progresses, making me wonder if...perhaps...her part were shot more or less in sequence, rather than out-of-order (a more customary tendency). Her real-life daughter Rachael Stirling (SNOW WHITE AND THE HUNTSMAN and SALMON FISHING IN THE YEMEN) - playing her on-screen daughter here - imbues her Ada character, which could easily have been melodramatic or over-the-top, with a sense of often heart-wrenching pathos.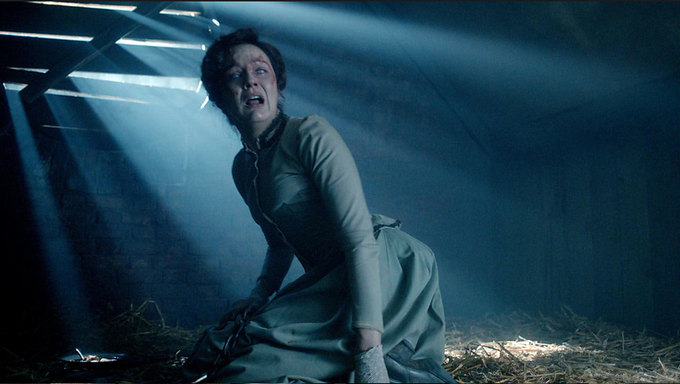 Pay close attention to the nuances of her expressions...you may well find yourself moved by the powerful subtleties she brings to the equation.
Strax is not quite as 'funny' here as he is when scripted by Steven Moffatt. No disrespect intended towards Mister Gatiss at all - I've enjoyed both of his episodes this Season/Series quite a bit - I merely tend to engage with Moffat's sense of humor a tad more than Gatiss'. This said, Crimson offers is one priceless moment between Strax and a horse which is likely to instantly assume a lofty position in the Strax Hall of Greatness.
A great deal of fast-paced fun sporting a few surprisingly edgy moments, DOCTOR WHO: The Crimson Horror transmits this Saturday May 4 on BBC America, BBC One, and Space.
-------------------
Glen Oliver
"Merrick"
- e-mail
- Twitter
- Google +
[[[[[ A LIST OF PREVIOUS DOCBACKS CAN BE FOUND HERE!! ]]]]]
DOCBACK CODE OF CONDUCT
1) a Docback should be about completely open and free discourse regarding all things WHO with, obviously, some variation on subject matter from time to time - the real world intervenes, discussions of other shows are inevitable, etc.)...
2) matters of SPOILAGE should be handled with thoughtful consideration and sensitivity. Posts containing SPOILERS should clearly state that a SPOILER exists in its topic/headline and should never state the spoiler itself . "** SPOILER ** Regarding Clara" is OK, for example. "** SPOILER about that Motorcycle" is fine. **SPOILER** Why did everyone die?" Is NOT good.
And, above all...
3) converse, agree, disagree, and question as much as you want - but the freedom to do so is NOT a license to be rude, crass, disrespectful, or uncivilized in any way. Not remaining courteous and civil, as well as TROLLING or undertaking sensational efforts to ignite controversy, will result in banning. Lack of courtesy may receive one (1) warning before a ban is instigated. Obvious Trolling or Spamming will result in summary banning with no warning. One word posts intended to bump-up any Docback's figures on AICN's "Top Talkbacks" sidebar will be considered actionable Spam - they not only complicate efforts to access Docback from mobile devices, but impede readers' abilities to follow or engage in flowing conversation.
In short, it's easy. Be excellent to each other. Now party on...