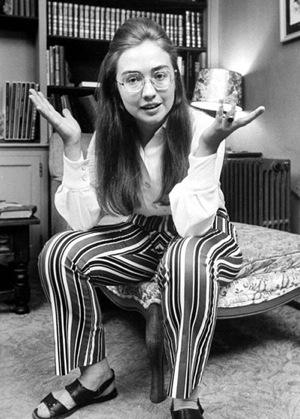 Beaks here...
One of the most talked about screenplays of the last year was Young Il Kim's RODHAM, a biopic about the former Secretary of State Hillary Rodham-Clinton that focuses on her role as a young lawyer on the House Judiciary Committee investigating the Watergate scandal. The conflict of the script has Rodham being forced to decide whether she wants to blaze a brilliant trail in Washington D.C. or move to Arkansas to live with her law professor boyfriend, Bill Clinton.
It sounds like a smart approach to Rodham-Clinton's story, and, according to The Wrap, producers Wyck Godfrey and Marty Bowen have found the ideal director for the material in James Ponsoldt. Ponsoldt has had back-to-back indie triumphs with SMASHED and THE SPECTACULAR NOW, and has been in high demand over the last few months. He's a skilled director, and this high-profile project could be the one that puts him on the A-list. Also, if the script is as good as everyone says, this will be one of the most coveted female roles in town.
There's no word on a start date, but I imagine this project is a high priority for all involved.