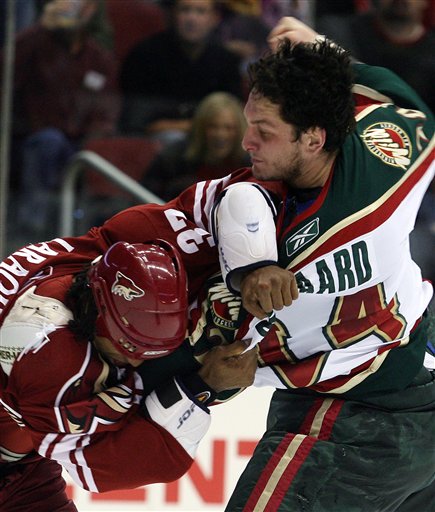 Beaks here...
The tragic life of a professional hockey enforcer is going to get a sober-minded examination from Peter Berg. According to Deadline, the director is teaming with Focus Features to make a film centered on the hard-hitting career of Derek Boogaard, a feared tough guy who died tragically at the age of twenty-eight from an accidental overdose of prescription pills and alcohol.
Boogaard suffered from chronic traumatic encephalopathy (CTE), a degenerative brain disease that can be exacerbated by repetitive blows to the head. Boogaard's case of CTE was especially severe. After a rough-and-tumble string of seasons with the Minnesota Wild and the New York Rangers, he found himself dealing with memory loss and crushing depression. This condition haunts many athletes after they retire from contact sports, and while it's been the subject of many investigative articles and documentaries, a high-profile Hollywood film could put CTE on the public's radar in a big way. Given the popularity of contact sports, it's important that we learn more about CTE, so that we can treat it more effectively and, perhaps one day, prevent it from progressing to the stage where it makes living one's life unbearable.
Up-and-coming screenwriter Ryan Condal (HERCULES: THE THRACIAN WARS) is currently working on the script. If you're interested in learning more about CTE, I highly recommend checking out Steve James's 2012 documentary HEAD GAMES.