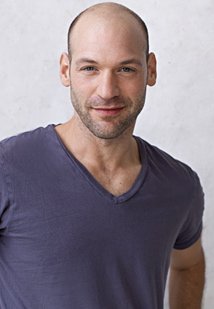 Corey Stoll, who plays U.S. congressman and Pennsylvania gubernatorial candidate (and Francis Underwood pawn) Peter Russo on "House of Cards," will play Dr. Ephraim Goodweather in FX's "The Strain" pilot, based on the vampire novels by filmmaker Guillermo Del Toro and Chuck Hogan.
Del Toro is attached to direct the pilot from a teleplay by Del Toro and Hogan.
Pilot executive producer Carlton Cuse ("Lost," "Bates Motel") will serve as the series' showrunner should it proceed to series.
Stoll also played Ernest Hemingway to great effect in Woody Allen's "Midnight in Paris." His credits also include "Salt," "The Bourne Legacy" and a lead role on "Law & Order L.A."
Look! Press release!
COREY STOLL INFECTED BY THE STRAIN

House of Cards star Cast in FX Pilot from Guillermo del Toro

Del Torro and Chuck Hogan Will Co-Write and Executive Produce Pilot Script with del Torro Set to Direct

Emmy® Award-Winning Writer/Producer Carlton Cuse Also Serves as Executive Producer

Production on Pilot to Begin in September 2013

Los Angeles, April 18, 2013 – FX has cast House of Cards star Corey Stoll in the lead role in its drama pilot The Strain, based on the best-selling vampire novel trilogy from Academy Award®-Winning Filmmaker Guillermo del Toro and Author Chuck Hogan.

Del Toro and Hogan will co-write the pilot script, with del Toro attached to direct. Award-Winning Writer and Producer Carlton Cuse (Lost, Bates Motel) will be an Executive Producer and oversee the series with Del Toro. He will serve as Showrunner as the pilot goes to series. Hogan and Gary Ungar will also serve as Executive Producers. FX Productions will produce.

The Strain is a one-hour high concept thriller that tells the story of Dr. Ephraim Goodweather (Stoll), the head of the Center for Disease Control Canary Team in New York City. He and his team are called upon to investigate a mysterious viral outbreak with hallmarks of an ancient and evil strain of vampirism. As the strain spreads, Eph, his team, and an assembly of everyday New Yorkers, wage war for the fate of humanity itself.

"To me, having the right lead for The Strain series was perhaps the most important creative task," said del Toro. "To be able to secure the perfect actor in Corey Stoll sets the project on the right track. To embody a character like Ephraim Goodweather – who transitions through every emotion and situation imaginable, and which anchors the narrative of the series – requires amazing talent and craft. Corey has both in spades as he has demonstrated it over and over again."

Stoll has had a big year with a breakout role in the Netflix series House of Cards and the Sundance Film Festival entry, David Sedaris' adaptation of COG. Stoll was recently cast in the feature films This is Where I Leave You, where he will portray the brother of Jason Bateman's character and The Good Lie, which chronicles a young refugee of the Sudanese Civil War who wins a lottery for relocation to the United States with three other lost boys. He just wrapped the indie film The Glass Chin. Reps are UTA and Suskin Management

The Blu-ray second season of "Star Trek: The Next Generation," $114.99 in September and $73.90 last week, has fallen (this week only) to its lowest price ever: $52.49!! (60% Off!!) Cheaper Than Used!!