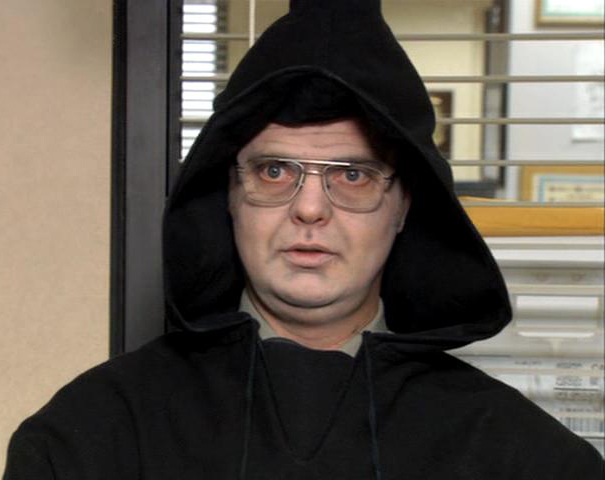 It looks like the finale will involve a jump forward in time and focus on Dwight's wedding.
The logline from NBC for the May 16 series finale:
Months after the airing of the documentary, the workers of Dunder Mifflin, past and present, gather for a wedding and a final round of interviews. Mysteries are solved, hatchets are buried, pranks are prunked.
Returning for the finale are Mindy Kaling (Kelly Kapoor), B.J. Novak (Ryan Howard), Andy Buckley (David Wallace), Bobby Ray Shafer (Bob Vance), Matt Jones (Cousin Zeke), and Mike Schur (Mose Shrute).
Other guest stars will include Rachael Harris ("Fat Actress"), Dakota Johnson ("Ben & Kate"), Joan Cusack ("Shameless"), Ed Begley Jr. ("Veronica Mars," "Family Tree") and Malcolm Barrett ("Better Off Ted").
I'm guessing Dwight's engaged to the hot neighbor farmgirl, but barn sex with Angela will derail the festivities.
After tonight, only three episodes of "The Office" left.

The Blu-ray second season of "Star Trek: The Next Generation," $114.99 in September and $73.90 last week, has fallen (this week only) to its lowest price ever: $52.49!! (60% Off!!) Cheaper Than Used!!