Ahoy, squirts! Quint here with today's Behind the Scenes Picture.
While doing a little research about this picture I saw that Hayley Mills was originally the first choice to play Lolita in Stanley Kubrick's adaptation of Vladimir Nabokov's famous novel. That kind of blows my mind. Word is both her dad and Walt Disney objected and they moved on to Sue Lyon, who is great in the film… but still. The baggage Mills would have brought to the role would have added a whole other dimension to the already controversial material. I mean, can you imagine James Mason becoming obsessed with Pollyanna? Unreal.
Today's BTS shot features Lyon helping Mason out with an off-camera performance during his coverage. I absolutely love seeing Kubrick peeking out from behind her. It's almost like he's hiding.
Thanks again to Decaying Hollywood Mansions for sharing this great shot.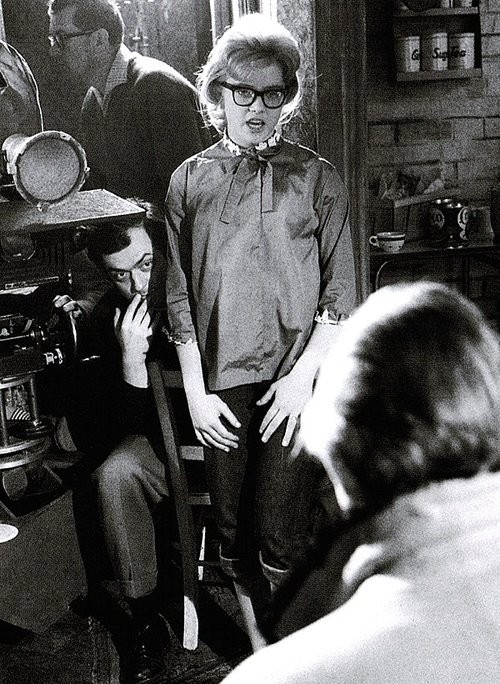 If you have a behind the scenes shot you'd like to submit to this column, you can email me at quint@aintitcool.com.
Tomorrow's BTS pic is killer.
-Eric Vespe
"Quint"
quint@aintitcool.com
Follow Me On Twitter
I've got a lot of maintenance work to do on the previous BTS articles, but you can visit two pages worth of images (beware of some broken links thanks to the last server shift): Click here to visit Page One and Click here to visit Page Two