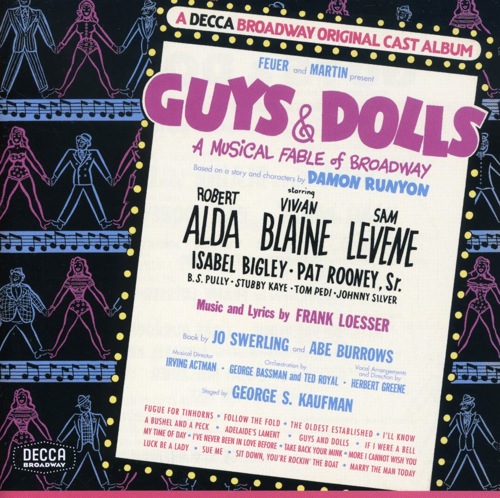 Beaks here...
I've got your stars right here, their names do not rhyme with Paul Revere, but their agents say that their schedules are clear.
Can do. Can do. Frank Loesser's widow says 20th Century Fox can do.
The idea of Channing Tatum and Joseph Gordon-Levitt starring as Nathan Detroit and Sky Masterson in a big-screen adaptation of GUYS & DOLLS largely pleases me. I've just got one question: do we know for sure that Tatum can sing? Because if he's going to play Nathan Detroit (and I'm sure that's the part he'll land), he's going to have to do better than the tuneless, talk-singing bullshit Sacha Baron Cohen and Helena Bonham Carter were allowed to get away with in LES MISERABLES and SWEENEY TODD.
If Tatum's up to the task, I'm positively giddy about a second cinematic go-round with GUYS & DOLLS. Joseph L. Mankiewicz's film is pretty good despite the questionable casting of the leads (Marlon Brando in particular). Obviously, you can't beat Stubby Kaye as Nicely-Nicely. But there's room for another take, and I hope it's set in the 1940s, because that grift-happy milieu is just too much fun. Part of the appeal of mounting a production of GUYS & DOLLS is getting to design for that bygone era of New York City. It's a spritely, spiffed-up vision of Damon Runyon's world of gamblers, cheaters, gangsters, molls and so on. What's better than getting lost in all of that?
There's no word on a director (which scares me because there are several choreographers-turned-woefully-incompetent-directors who would probably love to land this gig), but I'm guessing Fox will try to lock down the leads first. A bit of trivia: Nathan Detroit was one of Sir Laurence Olivier's dream parts. He came close to playing the inveterate gambler in the early '70s, but took ill just before rehearsals were to begin. Alas, the greatest actor of the twentieth century never got to play one of his most coveted roles. So count your blessings, Channing Tatum.