Hey everyone, Harry here - Due to situations out of my hands, the screening tomorrow has been postponed to another date. If you won the contest - you have an email all about it. If you didn't win, this could be good news - as I might end up with around 200 extra seats - so even more of you good folks can join us. Paramount/Bad Robot and actually JJ personally have been working to give us the best possible screening of STAR TREK INTO DARKNESS - it is happening, just not today!
------
Hey folks, Harry here - just got contacted by Paramount. Weller is a working actor (THANK GOD) and got a call this morning having him appear on set to work in New Mexico on a yet unknown film. He regretted the situation, but that's show biz. He is available on Saturday, so we moved the event, because without Weller... well, it certainly would not be the same awesome. AND we'll have him for more time on Saturday!!! So win win!!! All winners will be contacted with the updated details - as soon as they all firm up for Saturday!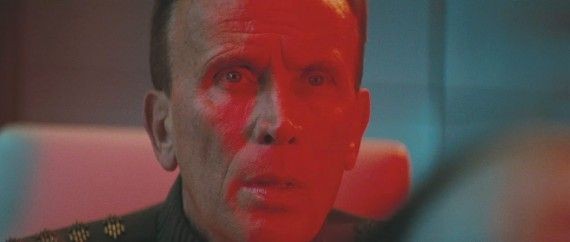 Folks - Harry here...
On Wednesday, April 24th, 2013 at 7pm - At the Highland Galaxy in Austin, Texas - 299 of you will get to be amongst the earliest denizens of Earth to see STAR TREK INTO DARKNESS and not only that. But we get to be blessed with the amazing Peter Weller, who is not only the star of ROBOCOP, but yes, he also shines in STAR TREK INTO DARKNESS!
We'll begin by watching JJ Abrams' STAR TREK INTO DARKNESS in 3D, then we'll get one last look at ROBOCOP theatrically. And did I mention PETER WELLER is going to be there? Besides playing the great Officer Alex Murphy, the enthralling Bill Lee, the amazing Buckaroo Bonzai or Frank Miller's hard as steel Dark Knight... but now he enters the Trek universe as Admiral Marcus... a name that is tied to Kirk's significantly I believe.
Now - How do you get into this? I haven't got time for an in depth contest, this screening is 42 hours from now. SO
Drop me an email at: HK at AintItCool.Com
with the subject line: I WANT TO SEE STAR TREK WITH ROBOCOP!!!
Exactly like that - all caps and spazzed out with three exclamations, cuz that's the sort of night this is!!!
Then list your full name and the full names of your guests (up to 3)
And then if you wish to demonstrate your enthusiasm for wanting to be at this momentous Austin Geek Moment! By all means - share it - realize - this is only based upon your speed and enthusiasm. I see no enthusiasm, I delete you. GEEK THE HELL OUT - cuz that's how you're getting in. You can't buy these tickets - you geek for these tickets.
Ain't It Cool?
Be quick. This is gonna fill fast!
Harry

And then you get: