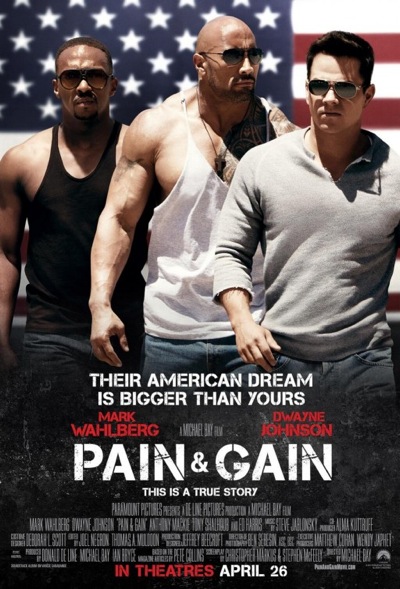 When Pete Collins's "Pain & Gain" articles detailing the thieving/murdering/dismembering exploits of a "gang" of 'roided-out Miami meatheads were published in the Miami New Times fourteen years ago, they read like an unholy, blood-splattered union of the Coen Brothers' FARGO and the Floridian crime fiction of Carl Hiassen. They were a nightmarishly hilarious depiction of dipshit greed and human cruelty that would snap credibility in two if ever made into a movie. Not that there was much of a chance of that happening. If any filmmakers were so inclined, the scope of the story and the grisliness of the gang's actions (combined with the general unlikability of the main victim) made this a low-budget lark at best.
But a good story is a good story, and screenwriters Christopher Markus and Stephen McFeely simply couldn't resist the stranger-than-fiction nastiness of Collins's articles. What they couldn't anticipate is that, after an initial round or so of rejection, they'd find an eager creative collaborator in the world's foremost perpetrator of four-quadrant cinematic destruction, Michael Bay.
As bizarre as it may seem for a box-office behemoth like Bay to take on a scuzzy, small-scale crime flick like PAIN & GAIN, some viewers might be equally puzzled when they realize the screenplay is by the writers of CAPTAIN AMERICA: THE FIRST AVENGER and THE CHRONICLES OF NARNIA films. But Markus and McFeely have dabbled in the true crime genre before (they wrote an unproduced screenplay about the murder of the owner of Los Angeles's Silent Movie Theatre), and they've shown off their versatility by winning Emmys for THE LIFE AND DEATH OF PETER SELLERS. So perhaps the distance between C.S. Lewis and the Miami juicehead community isn't as far as you think.
PAIN & GAIN was always going to be a lurid film, but the addition of Bay did give the project a little more... pep. When I spoke with Markus and McFeely a week ago, I was curious as to how much the tone of the story changed once Bay came aboard. When you see PAIN & GAIN, there is no mistaking that you are in the hyper-adrenalized world of Michael Bay; whether that's always appropriate is something you'll have to determine yourself. And make no mistake: you need to see PAIN & GAIN. It is, excesses aside, an invigoratingly original crime flick bolstered by some sharp writing and a bevy of diabolically great performances.
I chatted by phone with Markus and McFeely, who were taking a very short break from CAPTAIN AMERICA: THE WINTER SOLDIER to attend PAIN & GAIN's premiere in Miami. Yes, the superhero project came up, and of course they told me everything.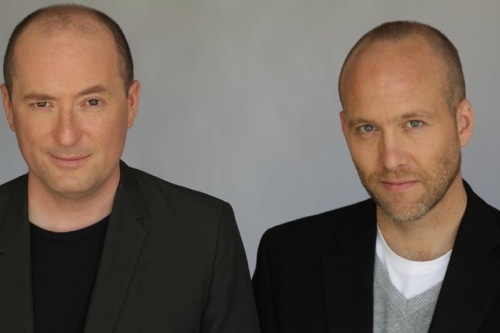 Mr. Beaks: I think I first heard Michael Bay talk about this project during the press junket for TRANSFORMERS. He's had it in his back pocket for a while. How fixed were his ideas when he came to the project?
Christopher Markus: We were there before him. We first read the articles in 2000, and couldn't get anybody interested in paying us to write a movie about them until Michael found out. When he came on aboard, all of a sudden Paramount was very accommodating. He's been very clear and fixed on what he wanted the whole time. It was just a matter of finding the time to do it. I think he knew exactly the kind of movie he wanted to make from the first time he read the stories.

Stephen McFeely: Any editorial decisions we made in terms of combining characters and shortening events have been there since 2002 or so. It's just that every two years, another movie comes up and he has to make a decision: "Am I going to make this small movie, or am I going to make another big movie?"
Beaks: When you first read the stories, no matter how dark it gets, it's impossible not to laugh at the sheer human stupidity on display. At what point reading that article did you say, "Oh god, this is a movie"?
McFeely: I don't think I can point to a particular scene. You've read the stories. It's a huge story, and we've been spending a bit of time with the writer, Pete Collins, while we're down here. He's a character, and it's a great piece. He really walks this line between finding the dark humor and not sugarcoating the grim, awful stuff that these guys do. That tone is hard, and we know that's hard, but it certainly interested us, and we didn't want to shy away from presenting the stuff that happens. In the script, we just roll it out, and the audience will judge whether to laugh or not, whether to cringe or not, whether to feel bad or not.

Markus: You start to see it as a movie when you get the sense of this critical mass of delusion that these guys have. If they were just career criminals who knew they were doing bad things, it wouldn't make for that interesting a movie. There's no real character definition there. But these guys really seemed to believe that they deserved it. And when you get the sense that there's some kind of longing there beyond just greed, where it's built into their character makeup, it starts to feel like a story you could tell.
Beaks: How did you determine where to depart from the facts of the story?
McFeely: Remember, this is an old script, so during that period we were writing another true crime thing about the Silent Movie Theatre on Fairfax, and we also did THE LIFE AND DEATH OF PETER SELLERS. We've had experience taking an actual story and trying to condense it and make it a two-hour experience. In doing that, we did it like we do everything: we took every interesting thing that happens, whether it's a line or character or scene, and we give it a 3x5 card. Then we see what themes and patterns are speaking to us. If things are repetitive, we make choices. The biggest change is the Paul Doyle character, played by Dwayne Johnson; he's sort of a combination of three guys, who, incredulously, all did a few of these horrible things. Even though it's incredibly true, it was difficult to imagine yet another guy contributing this kind of criminal behavior. Things like that are where we depart. It's funny that the most outrageous stuff tends to be the true stuff, and the stuff we made up tends to be stuff you might not notice.
Beaks: There was an article that came out recently about some of the survivors' family members being upset. As you were writing the screenplay, did you ever find yourself considering that this happened to real people, and they're probably not going to find this funny? How do you reconcile these things?
Markus: You cannot knowingly shut that off and pretend they're not real characters, because the writing will suffer. For us, it was a question of always knowing that the bad guys were bad guys, and what they were doing was wrong. It was never about forgiveness or glorification or anything like that. The victims are truly victims; they're not deserving of what they get in any way.

McFeely: The Victor Kershaw character is the hero; he undergoes suffering, and he wins in the end. The couple that dies, they fight back. We can't really change the events, but at least on the page we can give them some kind of dignity.

Markus: They effectively die because they see through what idiots these guys are. I'm sure they'd be happier stupid.
Beaks: One of the big changes to me is how you portray the main victim. In the story, Marc Schiller comes off as more hapless than abrasive. Victor is a scumbag, but he seems capable. How did you go about altering this character?
McFeely: You don't find out until the end of [Collins's] story that, in real life, after Marc Schiller testified to help put these guys away, the FBI arrested him on the courthouse steps for Medicare fraud to the tune of $20 million. So the story you've read the whole time, that's influencing who that guy is. He was kind of shifty. We don't want to set out to make anybody other than what they are, but that's not all in our control. Casting does a lot of it: you either like someone or don't like someone based on their body of work coming into the movie.

Markus: And Schiller is a very strong guy. He wouldn't have survived had he not had a pretty steely core inside of him. He was a victim, obviously, but I don't think he acted like a victim; otherwise, he would've died. In terms of maybe exaggerating his abrasiveness, I think you need that to continuously poke at Lugo and the other guys. You need somebody who's going to call them on their delusions.
Beaks: Were you guys on set for filming?
McFeely: No. This was Michael's baby.
Beaks: So what was rewriting like before shooting? What did he contribute?
Markus: He's generally very targeted. It's not like, "I want it 60% funny." It's "This voiceover in this scene isn't quite getting us where we need to go." We'd offer him four or five choices of where you could go. The movie was always designed with voiceover so that we could do that, so we could tune your perception as it went along. We continued to do that until not too terribly long ago.
Beaks: Bay encourages improv, and he's hired a lot of very funny improvisors for this movie, people like Rebel Wilson and Rob Corddry. How do you feel about that tone? Does that match the tone of the film you initially wrote?
McFeely: I think it's fair to say that... yeah, it tends to not be what's on the page. Rebel Wilson's character is certainly much more Rebel Wilson than Doorbal's nurse-wife. That said, she's very funny, so I don't begrudge Bay putting her in there. But the tone is slightly different. I'm not sure Corddry did a ton of ad-libbing. Corddry's kind of on-point. Ken Jeong has a little bit, but of course the "I'm a doer" stuff is all in the script.
Beaks: I thought maybe that *69 crack was his.
McFeely: No, that's us! (Laughs) That's a section of the true story that's kind of hard to get your hands around as to why, when the cops don't believe him, they don't keep going to the cops, and what interaction does Schiller have with the bad guys after he's out of the hospital and free somewhere? We needed them to come into contact, and we leaned on the *69 thing hoping that in 1995 not everyone would've known what it was.
Beaks: In terms of the portrayal of the thugs, how close does this link up to what you envisioned.
Markus: Very close. Visually, there's a bit of a swap between Anthony Mackie and The Rock's characters. Doorbal, Anthony's character, is huge in real life; he's shaped much more like The Rock. And we'd envisioned Doyle a bit smaller. Body size-wise they're kind of flipped, but in terms of portrayal they're spot on. We kind of had Mark in mind even when we were writing it back then; he's sort of an expert at playing that guy who's not as smart as he thinks he is, which is exactly what we needed.
Beaks: Tonally, this does brush up against the fiction Carl Hiaasen, which is something I haven't seen many filmmakers get right. Did you look to his work as inspiration in the writing of this?
Markus: Not specifically. It's part of the culture. I've read him, I've read Elmore Leonard... I mean, people have waded in this scummy water of Miami before. There's a level of knowledge that just comes with consuming popular culture after a while.
Beaks: What about movies that might've been a touchstone? I know Bay's talked about FARGO.
McFeely: We've always talked about FARGO. We talked about it while writing it, too.

Markus: In some ways, the end section of GOODFELLAS, where he's making the sauce and racing around and you hear his thoughts, that was something we talked about early on. It's incredibly unreliable, yet you get a sense of what's going on, yet you're also getting the hyper feeling that the coked-up guy has while you're watching it. There's some of that.
Beaks: That clarifies something about the movie for me. The whole thing really is the third-act of GOODFELLAS.
McFeely: It's a weird energy. I leave the theater feeling really jangly. My nerves are kind of shot.
Beaks: How do you hope people feel walking out of this movie?
McFeely: I think they're going to go in with different expectations than what the movie gives them. Partly just because of how you sell a movie, partly what they think Michael Bay does. When you walk into a Michael Bay movie, you have certain expectations. Strangely, I think that hyperkinetic thing he does is really well-suited to this particular story. I think it's the most self-aware movie he's made, and my hope is that by the end people will realize that. They'll walk out of there saying, "Wow, that was different than what I expected, but I'm pleased with what I got."

Markus: Guilty laughter, shameful pleasure... that's what I'm looking for most of the time.
Beaks: So you think Bay might be satirizing himself, or at least what people think of him from his movies?
Markus: A little bit. I think he was drawn to it because it takes place in Michael Bay World. Not Michael Bay's world, but what people view as the water all his characters swim in. It's strippers, it's sports cars, it's things exploding, but it's just off to the side of what you normally see him shooting.

McFeely: Whether he would articulate it that way? I don't think he went out of his way to subvert himself, but ten years from now will the French say that? Maybe.
Beaks: Ham-fisted segue coming...
McFeely: Tread lightly!
Beaks: We've heard that [CAPTAIN AMERICA: THE WINTER SOLDIER] transitions from World War II film to a sort of grittier political thriller. As writers, did this shift require you to use a different skill set?
Markus: A little bit. Obviously, it's not an origin story, so all of that could be set aside, all of that slow construction that we had in the first movie - which I really liked, but it wasn't the tone we needed anymore.

McFeely: It's not so much that it's a different skill set, it's just that the character has a different problem. The great thing about Marvel movies is that they start with character. In this case, even though he is literally the same person, having woken up seventy years later and gone through THE AVENGERS, he's got a different set of issues than he did as a scrawny, plucky guy who wanted to join the service. The story naturally follows character.
Beaks: Throwing off the burden of origin, does that make it more fun to write?
Markus: The origin was fun to write, but this ups the pace. Origins are slow or they're kind of lame. If you're walking down the street and a magic piano falls on your head and suddenly you're a superhero... that's fast, but it's stupid. You've got to understand why it's happening, and ease into it. Now that we don't have to do that, and that people now have the third most successful movie under their belt as to who this guy is on a daily basis, you can really get into the current plot a lot more quickly.
Beaks: You've also done work on THOR: THE DARK WORLD, which is a bit more cosmic. Since we've heard that Marvel is heading in a more cosmic direction, is it possible that might be more of a jumping off point for THE AVENGERS than CAPTAIN AMERICA: THE WINTER SOLDIER?
McFeely: Not much. Chris said it recently: it's like the weather. What kind of day it's going to be at the end of CAPTAIN AMERICA 2 may slightly influence whether it's sunny or cloudy in THE AVENGERS 2.

Markus: We're certainly not planting a bomb that's going to go off in THE AVENGERS 2.

McFeely: Kevin Feige is really good at that. He's all about making each movie good, and he won't sacrifice something meaty in one movie just so he can do something theoretical in a later movie.

Markus: You want them all to work on their own. If they just feel like prelude, it's not going to stand on its own as a movie, and people are going to feel jerked around.
Beaks: How has the rewriting process on CAP 2 gone?
McFeely: This one's been pretty tight for a while now. We're on set doing really small stuff, just an extra line here or there. The structure's been really tight for a long time. But it's grueling. There are long days when we're just eating food. Other people are making the movie, and we're just sitting around. But we're an insurance policy. If somebody says, "This word doesn't feel good in my mouth, can we come up with another one," we're there to do that. It's kind of a dream come true.
PAIN & GAIN hits theaters Friday, April 26th. Submit to its wanton pleasures.
Faithfully submitted,
Mr. Beaks