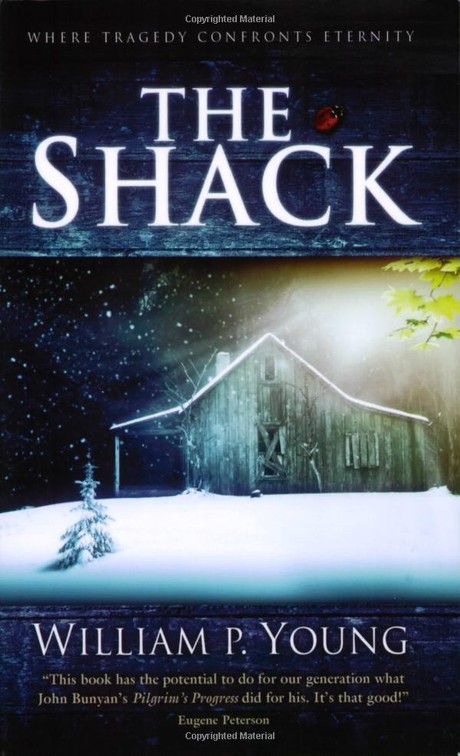 Summit has picked up movie rights to THE SHACK by William P. Young.
The logline: In the aftermath of a devastating personal tragedy, Mackenzie Allen Philips receives a mysterious note in his mailbox inviting him to The Shack. The letter is signed Papa, his wife's nickname for God. Mack responds and finds himself in the presence of God, and a life-transforming journey of truth, forgiveness, and ultimately acceptance.
...says THIS piece at Deadline.
John Fusco (the two YOUNG GUNS movies, THE FOIRBIDDEN KINGDOM, and the upcoming CROUCHING TIGER, HIDDEN DRAGON film) will script the picture, which'll be produced by Gill Netter (FIRST KNIGHT, MARLEY & ME, THE BLIND SIDE, LIFE OF PI).
I'll admit to being extremely unfamiliar with the source material, and I don't want to pass judgement in any way. But, to be completely honest, the first thing that popped inot my Geekly mind when reading that 'going to meet God' synopsis above was STAR TREK V: THE FINAL FRONTIER - and that didn't work out so well in a number of ways. In this case, though, if Mackenzie Allen Philips is summoned to a cabin by an alien who's looking to hitch a ride? I dunno...perhaps there's some potential there.
All snark and irreverence aside, this sounds like one of those projects which might feasibly come together a something rather potent given its pedigree so far, and its apparent essence. Given the book's immense popularity, there must be something provocative or touching here, no?
-------------------
Glen Oliver
"Merrick"
- e-mail
- Twitter
- Google +