The Kidd here...
I've long been an enthusiast of these special midnight prints that go out to those who want to experience a film first with their fellow fans at a 12:01 a.m. showing. It's a nice touch to give you something to remember your experience by, especially if the movie holds up to or exceeds your expectations. Then you have a nice memento to frame and put on your wall that you can point to at any given moment before you head off into your story of where you were when you saw it, who you were with, how it changed your life, etc.
Today we get a look at what Marvel Studios, IMAX and Mondo have cooked up for your first showing experience of IRON MAN 3, and it comes from the hands of the artist Jock who has put together an artistic and very cool print for you to take home after you see Tony Stark finally square off against the Mandarin.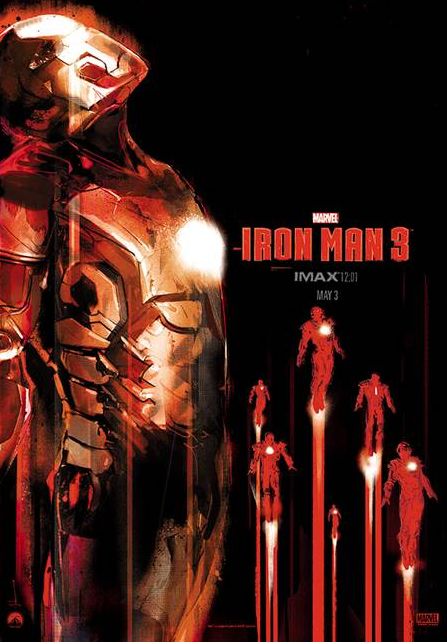 I love the simplicity of just using the Iron Man suit design, but in a way that isn't at all plain or boring. This baby has got some style, and with the use of the Iron Legion as well... I hope to snag one of these for my wall on May 3.
-Billy Donnelly
"The Infamous Billy The Kidd"
Follow me on Twitter.
Like me on Facebook.