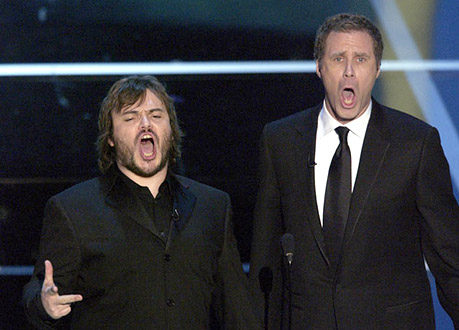 Nordling here.
The Wrap is reporting that Will Ferrell and Jack Black may very well share the screen again in TAG BROTHERS, based on the true story of two Spokane buddies who every year play a game of Tag during the month of February, sometimes going so far as to break into each other's houses, and chasing each other across the country. It recently got written about in the Wall Street Journal, and producer Todd Garner's production company Broken Road picked up the rights.
It's now up to screenwriter Mark Steilen to deliver a script to Ferrell and Black's satisfaction. Yeah, I wouldn't want to be in his shoes. The premise sounds really fun, and hopefully Steilen will take this to ridiculous extremes. That's probably the best way this movie would work.
The premise sounds straight out of an 1980s SNL comedy - this would have been something Dan Ackroyd and John Belushi would have eaten with a spoon. I hope they hold nothing back; it's probably unrealistic to expect that this won't be anything other than a PG-13 kind of comedy, but if Ferrell and Black are unleashed with an R rating, I can only imagine the possibilities.
Nordling, out.