Ahoy, squirts! Quint here with today's Behind the Scenes Picture.
Can I just take a moment to say how much I love the pimp complimenting Superman's threads in Richard Donner's Superman? I could wake up to find my cat dead, my front lawn on fire and my car repossessed and someone could play that sound bite for me and get me to smile.
Today's picture sadly doesn't feature that pimp, but it does feature Christopher Reeve filming the scene where he saves the power plant from meltdown. Reeve is poised mid take-off, a look of determination on his face… there's dramatic atmosphere and it's an all around great photo. But I must admit the first thing my eye is drawn to is the pit stain. Saving the world is hard work! I don't judge!
We miss ya', Chris! You'll always be my favorite Superman.
There will be a pause in the BTS column until next Tuesday as I'll be out hanging with the creatures at Monsterpalooza and still don't have a fully functioning laptop (that'll hopefully change in the next month or so). Sorry for the hiccup, but I'll be back with awesome pictures, I promise.
Thanks to the Practical Effects Group for the image, which originated at Caped Wonder.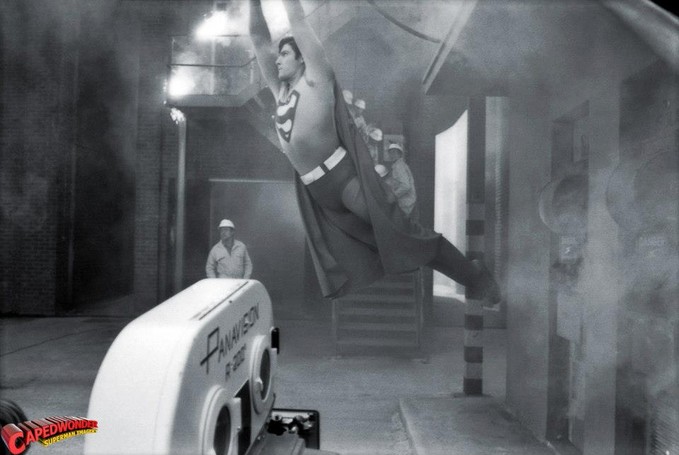 If you have a behind the scenes shot you'd like to submit to this column, you can email me at quint@aintitcool.com.
Hell comes to the BTS column next Tuesday! See you folks then.
-Eric Vespe
"Quint"
quint@aintitcool.com
Follow Me On Twitter
I've got a lot of maintenance work to do on the previous BTS articles, but you can visit two pages worth of images (beware of some broken links thanks to the last server shift): Click here to visit Page One and Click here to visit Page Two