Ahoy, squirts! Quint here with today's Behind the Scenes Picture.
Torn Curtain feels like a lost Hitchcock film a bit to me, in much the same way that Let It Be feels like the lost Beatles album. The majority of the songs on Let It Be are amazing and hardly ever, ever, ever get any radio play (Two of Us, I Me Mine, I Dig A Pony, I've Got A Feeling stand out) and aren't really discussed much when talking about great Beatles music.
The Torn Curtain comparison is a little shaky because it's far from Hitch's best work and none of the big moments feel iconic in and of themselves, but it's a fascinating movie to me because it's still the master of suspense playing in his wheelhouse with two of the '60s most charming actors: Paul Newman and Julie Andrews.
He was on his decline, but still only 6, 7, 8 years off from Psycho, Vertigo and North by Northwest. The movie looks great, the political espionage plot is very much Hitchcockian in its structure, but something doesn't click right. I've seen it a couple of times now and the movie holds my attention, but doesn't pull me along like his other like films do.
Anyway, that's a long introduction to this picture, which shows Hitchcock celebrating his 50th motion picture (I'd wager on wrap of Torn Curtain) with his two stars: Newman and Andrews. It's a nice shot and I hope you guys enjoy it as much as I do.
Thanks to Decaying Hollywood Mansions for the image!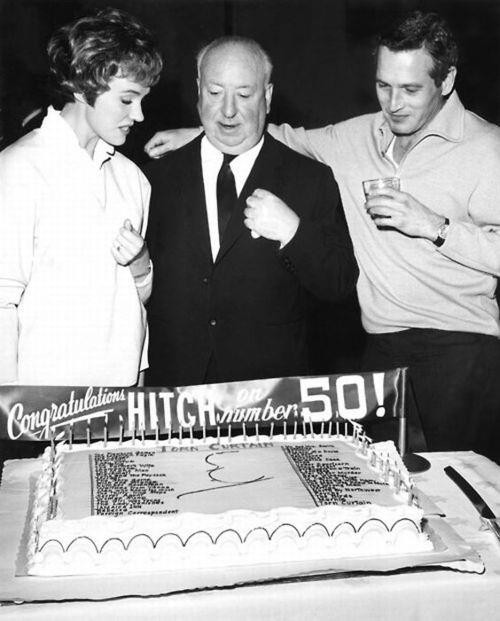 If you have a behind the scenes shot you'd like to submit to this column, you can email me at quint@aintitcool.com.
Tomorrow's pic is ready for its close up.
-Eric Vespe
"Quint"
quint@aintitcool.com
Follow Me On Twitter
I've got a lot of maintenance work to do on the previous BTS articles, but you can visit two pages worth of images (beware of some broken links thanks to the last server shift): Click here to visit Page One and Click here to visit Page Two