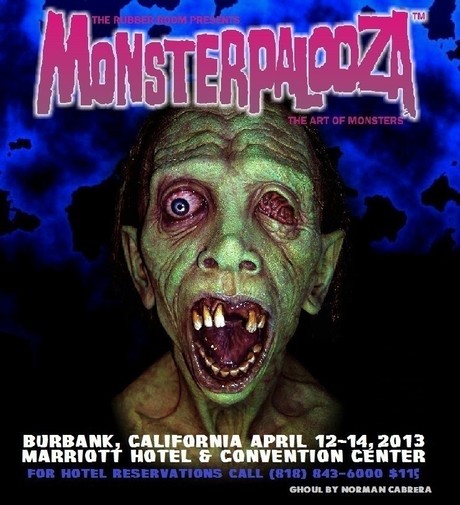 Ahoy, squirts! Quint here. This Friday I'll be headed to Los Angeles in order to take part in a rather geeky convention. I've heard of Monsterpalooza for a few years now and always wanted to go. It's a big gathering of monster dorks, including top effects people who slave away building unique displays year upon year.
You may have seen some pictures of one of those displays last year. One of my favorites was a life size recreation of a young Rick Baker making up David Naughton during the making of An American Werewolf in London.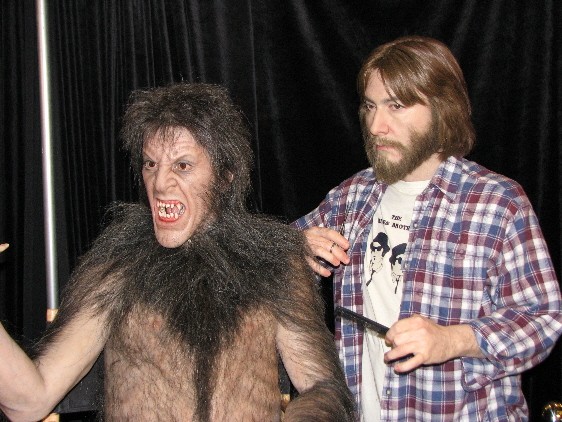 Mike Hill did that and had an interesting visitor during the con…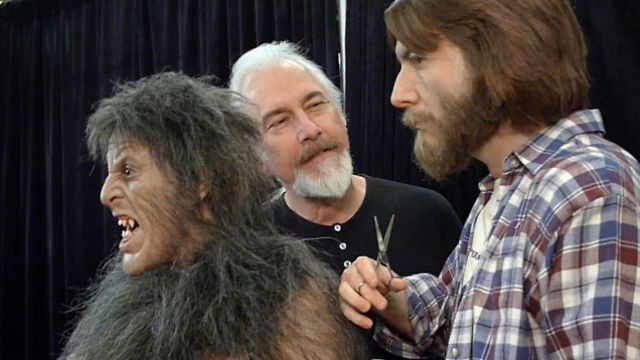 If I made that thing and had Rick Baker checking out my sculpt of his younger self I think I'd be crapping my pants a little bit. Hill also did this great set up of Jack Pierce making up Boris Karloff as The Mummy: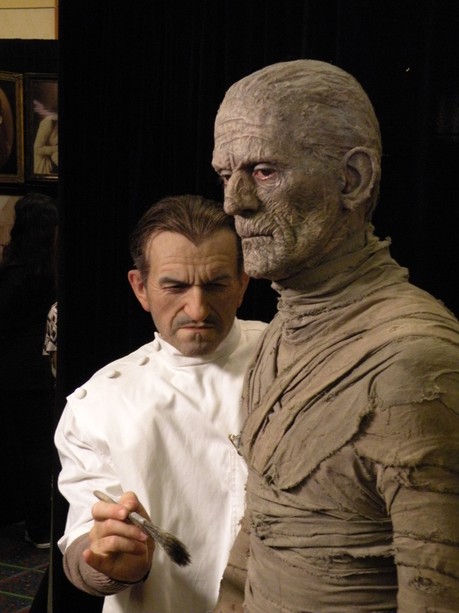 I'll be there with my trusty camera and almost assuredly not enough money in my pocket. I hear the stuff for sale is mindblowingly cool, with a ton of dealer tables selling the craziest, coolest, sometimes one of a kind hand made monster memorabilia. Professional geeks like Jon Favreau and Guillermo del Toro are regular attendees, so that should show you how sweet the dealer floor is.
I'm also planning on hitting up the autograph alley area to perhaps grab a few interviews. There's actually a lot of really interesting people showing up to sign stuff, including Ultraman's Bin Furuya and Susumu Kurobe, Martin Landau, Linda Blair, Danny Glover, Ace Frehley, pretty much everybody from The Monster Squad, Julie Adams, all four (living) leads from Pet Sematary, Caroll Spinney, The Chiodo Brothers, Carl Gottlieb, Joe Alves (yay Jaws) and one of my favorite character actors Al Leong (Big Trouble in Little China, Die Hard, Bill and Ted's Excellent Adventure, etc).
The con runs Friday-Sunday and you can find out more info and get tickets and all that stuff at their website.
I also hear the American Cinematheque is doing obscure film noir double features while I'm there, so I expect I'll hit a couple of those as well.
Hope to see some of you guys at the convention! This is my first time, so be gentle with me!
-Eric Vespe
"Quint"
quint@aintitcool.com
Follow Me On Twitter