Ahoy, squirts! Quint here. One of Drafthouse Films' upcoming flicks is Kim Ki-Duk's PIETA, which took home the top prize at the Venice Film Festival last year. If you're more than a passing movie fan then odds are you love Korean crime flicks, particularly those involving some form of revenge. If so, then you've come to the right place.
I haven't seen the movie yet, so I can't speak to how good it is, but I do enjoy Kim Ki-Duk's work and have been a fan of 99% of Drafthouse Films' releases (sorry THE FP, you're not my cup o' tea), so I'm inclined to think Pieta will be right up my alley. If I needed any further convincing we've gotten two pieces of publicity that look great. First, the poster which had some design help from the Drafthouse's own Mondo (Jay Shaw did the poster, by the way):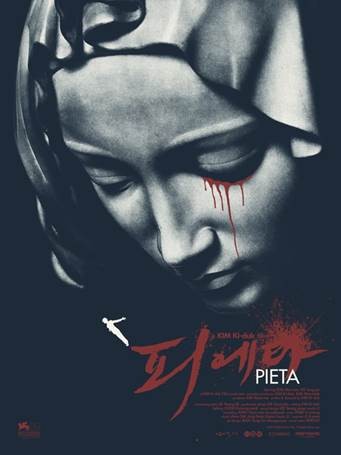 Rad. Then they've also released a trailer. I don't know exactly what that big machine's job is, but I have a sneaking suspicion that it's going to ruin someone's day before everything is said and done...
Check it out:
I'm looking forward to it. You?
-Eric Vespe
"Quint"
quint@aintitcool.com
Follow Me On Twitter