Folks, Harry here... Can you believe this? We are actually getting these movies. Today I was reading SWAMP THING 50 and looking at Bissette's art and thinking, Guillermo is gonna knock this out of the park. And then I was checking my Facebook before turning in and I saw this new profile pic from James Gunn. I guarantee - every boy and girl in this country is gonna do back flips for Rocket Raccoon - and you will too. He'll kick the shit out of TED. Tear him to fluff. Blow him up and flambe' him. Take a look at this piece Gunn released: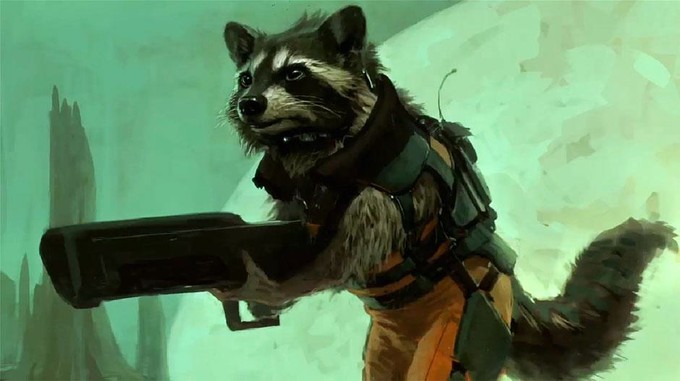 Beyond just the fantastic look of RR himself, I love the orange jumper with weapon straps criss-crossing him. I also love the moody look of the piece - a very haunted planet look. With Gunn, they've got a director that won't think any of this is weird or odd. He gets it. I really can't wait for a great plush Rocket Raccoon with Big Ass Gun.
For now, I just have to make this the background on my computer. I love it so much. I'd just die if they got Moroder to do the score for this.