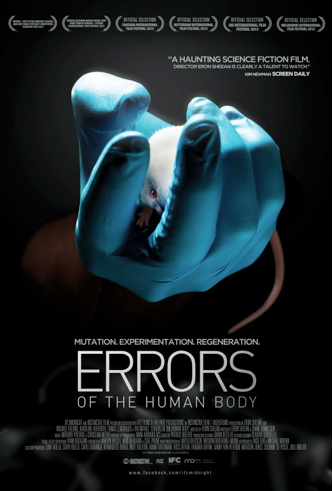 The Kidd here...
I caught ERRORS OF THE HUMAN BODY last year up at the Fantasia International Film Festival, and was a big fan. It later played Fantastic Fest as well to a pretty good reaction, and, as of April 19th, you'll finally be able to catch it in select theatres or on a number of digital platforms with a day-and-date release.
Eron Sheean's feature film directorial debut (he wrote THE DIVIDE) is quite the slow burn, and is quite dense in its genetic biology sci-fi subject material, but it makes for an interesting watch built around Michael Eklund (seen most recently as the villian in THE CALL).
Today IFC Films debuted the latest trailer for the film, and it's definitely worth checking out, as I'd recommend finding ERRORS in a couple of weeks. It was a solid watch for me.
-Billy Donnelly
"The Infamous Billy The Kidd"
Follow me on Twitter.
Like me on Facebook.