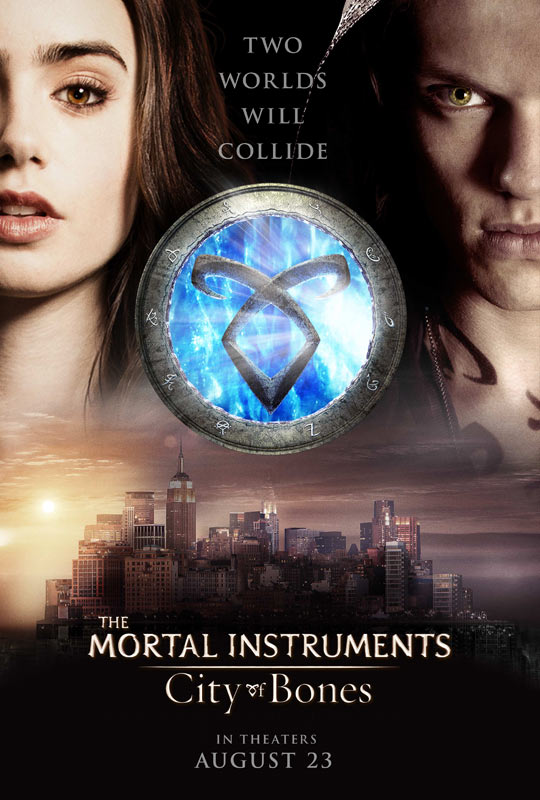 The Kidd here...
Young adult novel series are all the rage in Hollywood these days, with studios trying to scap up whatever they can in the hopes of striking it big with the next TWILIGHT-type of franchise. Considering the money those films took in for Summit, to the point that they are able to take chances on other riskier properties, it's hard to blame them.
Cassandra Clare's best-selling fantasy series THE MORTAL INSTRUMENTS is the one Screen Gems has its money on, adapting the battle between good and evil that begins in CITY OF BONES for the summer season this year. Now something with Harald Zwart directing wouldn't normally grab my interest, as I don't think the man's made a quality film yet (ONE NIGHT AT McCOOL'S, AGENT CODY BANKS, THE PINK PANTHER 2, THE KARATE KID remake), but, in doing my research, I've seen this teen fight against monsters described as Buffy-esque on the page, so... well, they've got my attention. Whether or not they can pull something off like that remains to be seen, but I'll give this one its fair shot. After all, something that has the sense to feature a soothing Jared Harris voiceover can't be all bad, can it?
Take a look at the new trailer and see what you think.
CITY OF BONES: THE MORTAL INSTRUMENTS opens on August 23.
-Billy Donnelly
"The Infamous Billy The Kidd"
Follow me on Twitter.
Like me on Facebook.