Ahoy, squirts! Quint here with today's Behind the Scenes Picture.
I know it may seem a bit sacrilegious to post a nudie picture so close to Jesus' big come-back celebration day, but if God is so strict to damn me for posting this image then I already had a seat reserved in hell starting around age 5.
So, yeah. Today we have a shot of Sir Sean Connery in Diamonds Are Forever surrounded by a bunch of… interestingly dressed showgirls. Boobs are great, of course, but what takes this shot to the next level is the look on Connery's face. You sly dog, you bedded each and every one of them, didn't you?
Many thanks to Randy van Rijn for sending this one in. I have a feeling some of you may want a bigger version of this image, so click for a larger file. Enjoy!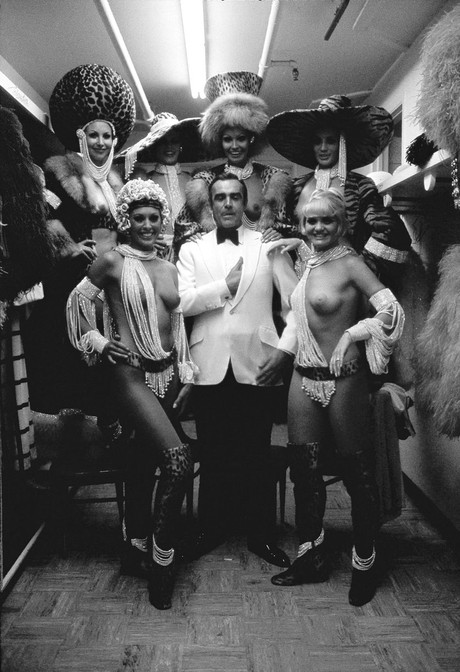 If you have a behind the scenes shot you'd like to submit to this column, you can email me at quint@aintitcool.com.
Tomorrow's pic will leave dry dock without you if you're not quick.
-Eric Vespe
"Quint"
quint@aintitcool.com
Follow Me On Twitter
I've got a lot of maintenance work to do on the previous BTS articles, but you can visit two pages worth of images (beware of some broken links thanks to the last server shift): Click here to visit Page One and Click here to visit Page Two