UPDATE 1 APRIL 2013 - 6:50 PM CST USA - ADDED IMAGE OF SMITH & TENNANT WITH CURRENT COMPANION JENNA-LOUISE COLEMAN AND 50th ANNIVERSARY EP GUEST STAR JOANNA PAGE. [via DoctorWhoNews]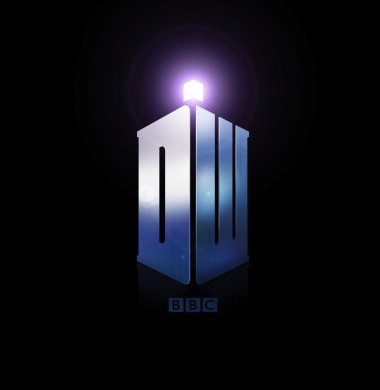 OVER THE WEEKEND, we learned that 10th Doctor David Tennant would be joining 11th Doctor Matt Smith (the current incarnation of the character) for a blowout episode celebrating the show's 50th Anniversary. These reports indicated work on said episode would begin this week, and ...as promised...here's a pic from script readthroughs for said special, via BBC's Twitter stream. The mind reels beneath the weight of such coolness, and the possibilities of bassasity suggested herein are boundless.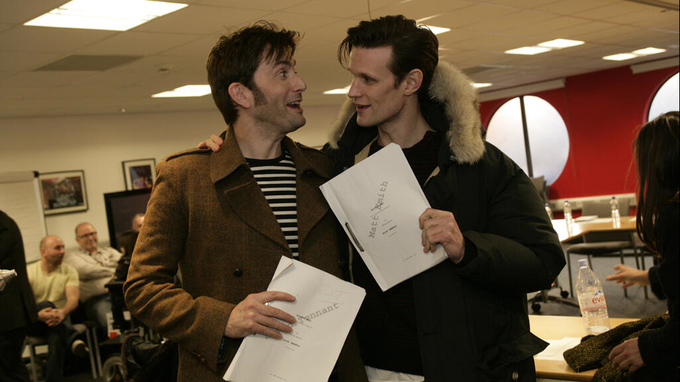 Does someone out there have a super-mega-uber enlarge-o-matic thinge so we can get a better look at the title page of those scripts? Probably something generic at this stage, with no specific mention of an episode title. But, ya know, it's hard not to be a little curious...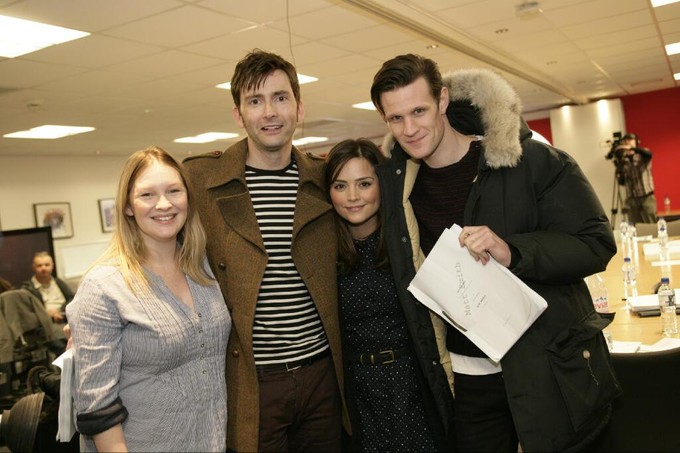 The 50th Anniversary special will hit later this year.
-------------------
Glen Oliver
"Merrick"
- e-mail
- Twitter
- Google +