Ahoy, squirts! Quint here with today's Behind the Scenes Picture.
Adam West's Batman was my first exposure to the character and while it's not anywhere close to the defining portrayal of the Dark Knight, I will always have a soft spot for the zany comic strip insanity .
Today we have a nice shot of Adam West fully decked out in costume, the batmobile parked behind him and some crewmen setting up reflectors to give it all that special BTS kind of feel. I also like the guy that is probably reading something right in front of Batman, but the way the photo is cropped it looks like he could be getting a little... touchy-feely... with Batman's groin area. Ahem.
Many thanks to the Old Hollywood-obsessed Decaying Hollywood Mansions for the image. Enjoy!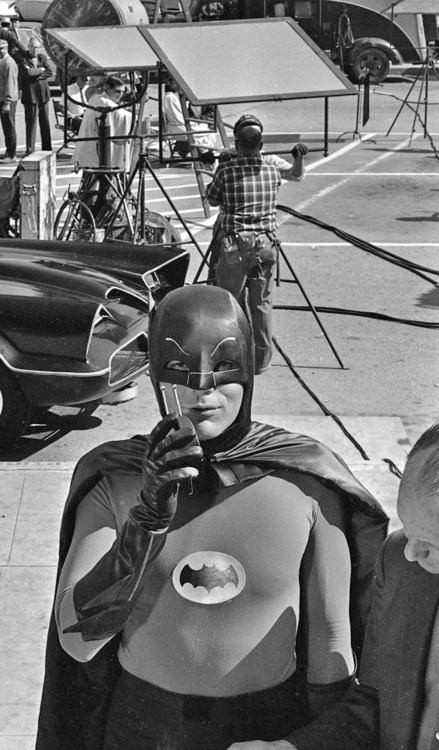 If you have a behind the scenes shot you'd like to submit to this column, you can email me at quint@aintitcool.com.
Tomorrow's pic likes its boobs shaken, not stirred.
-Eric Vespe
"Quint"
quint@aintitcool.com
Follow Me On Twitter
I've got a lot of maintenance work to do on the previous BTS articles, but you can visit two pages worth of images (beware of some broken links thanks to the last server shift): Click here to visit Page One and Click here to visit Page Two