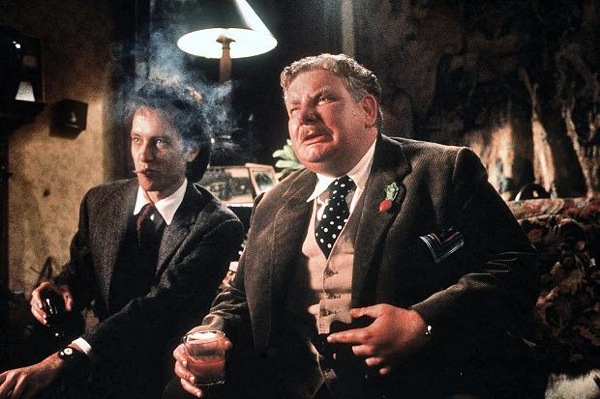 Beaks here...
My beloved 'Uncle Monty' Richard Griffiths died last night. Chin-Chin my dear friend.

— Richard E. Grant (@RichardEGrant) March 29, 2013
From the moment we arrive at Uncle Monty's abode in Bruce Robinson's WITHNAIL & I, the great Richard Griffiths imbues the already magnificent film with a bizarre, libidinous wit as he launches into a soliloquy about "firm young carrots" and flowers being "prostitutes for bees" (much of which is targeted at Withnail's boon companion Marwood). If you're a one of the film's fervent admirers, you can probably quote the entire speech. Actually, you can probably quote the entire film. Such is the rabid devotion the film has inspired over the last twenty-six years.
For many of us, that was our true introduction to Griffiths. Sure, I'd seen him in GANDHI and GREYSTOKE: THE LEGEND OF TARZAN, but this was a performance of legendary magnitude. From that point forward, I considered him one of the greats.
If his subsequent roles (particularly in film) weren't always up to his remarkable talents, he always treated the work with the utmost respect (even the rancid PIRATES OF THE CARIBBEAN: ON STRANGER TIDES, in which he is the lone highlight). He was a splendid foil for Leslie Nielsen in THE NAKED GUN 2 1/2: THE SMELL OF FEAR (playing both a villain and a repeatedly abused scientist with a birthmark in the shape of Whistler's Mother on his ass), and was hysterical as Harry Potter's muggle Uncle Vernon. Griffiths's triumph arrived in 2004, when he originated the role of Hector in Alan Bennett's THE HISTORY BOYS. His portrayal of the beloved grammar school teacher Hector earned him both an Olivier and a Tony for Best Actor (an Oscar might've been in the offing, too, had the film retained the spirit of the play). He was also wonderful in Martin Scorsese's HUGO, in which his Monsieur Frick flirted rather adorably with Frances de la Tour's Madame Emilie.
Losing Griffiths at the age of sixty-five (to complications following heart surgery) is tough to accept, but there are still many performances I have yet to savor. I'm told he's terrific in the BBC series PIE IN THE SKY, which is available in the U.S. on DVD. If you've any other recommendations, please feel free to share them in talkback below.
Our condolences go out to Griffiths's family and friends.