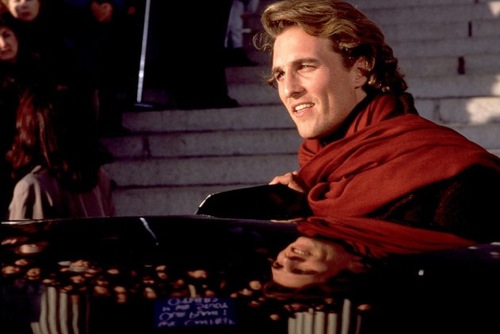 Beaks here...
Deadline is running this as a rumor, but I'll be surprised if it doesn't pan out in the coming weeks. Currently, we know next to nothing about Christopher Nolan's iNTERSTELLAR. All we've had to go on for a while is the title, a vague logline ("a heroic interstellar voyage to the farthest borders of our scientific understanding"), and the fact that the Jonathan & Christopher Nolan screenplay is based on the wormhole theorizin' of CalTech's God of Physics, Kip S. Thorne.
Well, it looks like Nolan has found a star for his heady sci-fi adventure. It's Matthew McConaughey, who's enjoying quite the career renaissance after critically acclaimed performances in MAGIC MIKE, KILLER JOE and BERNIE. He also, interestingly enough, co-starred in one of the only other big-budget attempts at serious science-fiction, Robert Zemeckis's adaptation of Carl Sagan's CONTACT. McConaughey will play a character named Cooper. I'm going to assume that this is Leroy Gordon Cooper, Jr. aka "The Best Pilot You Ever Saw".
INTERSTELLAR is currently set for a November 7, 2014 release.