Ahoy, squirts! Quint here with today's Behind the Scenes Picture.
Sorry for diverging from the usual quote in the headline, but I didn't know exactly what film to pull from since today's picture features three men in costume for three wildly different movies.
On the right is Orson Welles as Virgil Renchler from Jack Arnold's Man In The Shadow, on the left is James Stewart in his Grant McLaine get-up from Night Passage and stuck in-between is James Cagney in makeup as Lon Chaney… um… in makeup from Man of a Thousand Faces.
This is one of those "if only I could have been a fly on the wall" behind the scenes pictures. I imagine. All these films were shooting at Universal in 1956/1957, so it's not too hard to figure out why they're all together in costume, but I'll be damned if I could even begin to piece together where their conversation went beyond Orson Welles obviously being seriously freaked out at seeing Cagney in clown makeup.
Thanks to "MisterBlue" and FiftiesWesterns for this shot! Enjoy the photo!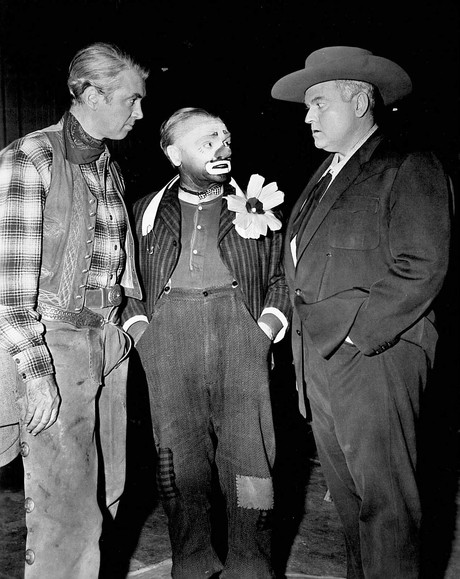 If you have a behind the scenes shot you'd like to submit to this column, you can email me at quint@aintitcool.com.
Tomorrow's pic is fired.
-Eric Vespe
"Quint"
quint@aintitcool.com
Follow Me On Twitter
I've got a lot of maintenance work to do on the previous BTS articles, but you can visit two pages worth of images (beware of some broken links thanks to the last server shift): Click here to visit Page One and Click here to visit Page Two