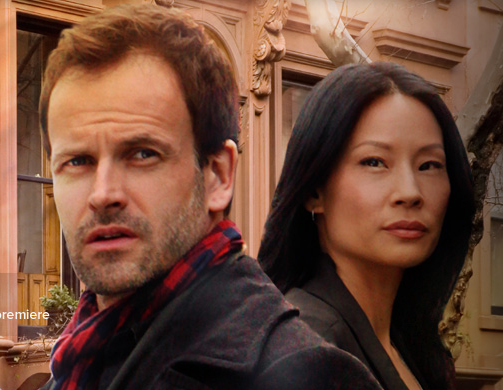 Sunday night's "The Good Wife" and "The Mentalist" get really sad ratings, but CBS is bringing them back next season anyway.
It now looks like "Sherlock" has no chance of catching up with "Elementary" in terms of episode count.
Contract negotiations are ongoing for "Two and a Half Men" and "Criminal Minds." But it seems unlikely that CBS would allow a rival network to snatch those up.
"Rules of Engagement," "Vegas," "Golden Boy" and "CSI NY" all technically remain on the bubble.
Shows renewed for 2013-2014 are in green.
CBS Rankings
(adults 18-49; repeats in grey; prior weeks in parentheses)
--- (4.8) (5.5) (2.8) (5.6) (5.5) (6.2) (5.4) (3.2) Big Bang Theory
--- (3.3) (3.9) (2.2) (3.9) (3.8) (4.1) (3.9) (2.2) 2½ Men
3.1 (3.2) (1.9) (3.4) (3.4) (3.5) (1.5) (3.7) (3.8) NCIS
3.0 (1.8) (1.6) (2.6) (2.6) (---) (2.8) (1.6) (3.1) Criminal Minds
3.0 (2.8) (1.7) (1.7) (3.3) (3.5) (3.6) (3.7) (2.0) 2 Broke Girls
--- (2.9) (2.8) (1.8) (2.9) (3.0) (3.1) (3.2) (1.9) Person of Interest
2.7 (3.0) (1.5) (1.7) (3.3) (3.4) (3.2) (4.0) (1.6) How I Met Your Mother
2.6 (2.4) (1.6) (1.8) (2.7) (3.2) (3.0) (3.2) (1.8) Mike & Molly
2.6 (2.9) (1.9) (2.8) (2.9) (2.7) (---) (3.1) (3.1) NCIS LA
2.6 (2.7) (2.6) (2.6) (2.4) (2.4) (---) (---) (---) Survivor
2.4 (2.3) (2.4) (2.5) (1.9) (2.5) (---) (---) (---) Amazing Race
2.3 (1.7) (1.4) (1.9) (2.3) (1.9) (2.4) (1.5) (2.6) CSI
--- (2.3) (1.6) (1.7) (2.4) (2.3) (2.2) (2.2) (1.5) Elementary
2.3 (1.6) (1.6) (1.6) (1.3) (1.3) (1.8) (---) (1.7) 60 Minutes
2.2 (2.3) (2.1) (2.2) (2.7) (2.9) (2.8) (3.1) (---) Rules Of Engagement
2.1 (2.1) (1.4) (1.3) (1.4) (2.0) (2.1) (2.3) (1.2) Hawaii Five-0
1.7 (1.5) (1.5) (1.6) (0.5) (1.3) (---) (---) (1.5) The Good Wife
--- (---) (---) (---) (---) (1.5) (---) (1.5) (1.9) Vegas
--- (1.4) (1.4) (0.9) (1.4) (1.4) (1.5) (1.5) (1.0) Blue Bloods
1.4 (1.7) (1.5) (1.6) (1.8) (---) (---) (---) (---) Golden Boy
1.4 (1.7) (1.7) (1.5) (0.7) (1.6) (---) (---) (1.9) The Mentalist
--- (1.2) (1.4) (1.1) (1.5) (---) (---) (---) (---) Undercover Boss
--- (---) (---) (---) (1.2) (1.2) (1.6) (1.5) (1.0) CSI NY
--- (0.9) (0.9) (1.0) (1.0) (1.0) (1.2) (0.8) (0.9) 48 Hours