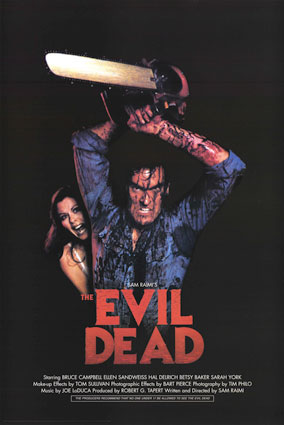 The Kidd here...
Things are going to get crazy down in Miami next Monday night, as we host a very special and exclusive screening of THE EVIL DEAD in 35mm with Bruce Campbell gracing us with his presence for a post-film Q&A. I received an obscene amount of entries from people hoping to get into this very cool event, and, after double- and triple-checking our seat count to make sure we had everything lined up properly, I've got our final guest list to see Sam Raimi's 1981 horror classic on April 1.
After careful consideration, we have booked this showing to exact capacity, which means if you find your name and your guests' names on our list, you have a guaranteed seat inside the theatre. The show starts at 8:00 p.m., but we are only holding your seat until 7:30, so if you're not in line and checked in by then, you're going to be out of luck. Due to all the entries that came pouring in, we are opening up a limited standby line at the theatre on Monday night, and if we have any available seats still remaining inside, we'll be pulling people from the line on a first-come first-served basis to fill them.
That line is not going to be open to just anyone. We wanted to give a second chance at getting in to those who put in a legitimate entry to try to get tickets in the first place and just came up a little short. So, after the guest list posted here, you'll find one more list. Those are the people who have been approved for the standby list, and, while there is no assurance any of them will be getting inside, they may just get lucky if any of our guest list no-shows. If your name is listed there, you'll be getting an email soon enough with details on what might help your chances.
But if you're on this list right here, you are in for Monday night for THE EVIL DEAD with Bruce Campbell in attendance, so away we go...
James Adams
Kent Alcantara
Ron Alen
Danny Alfonso
Pedro Alvarez
Douglas Arauz
Paul Augoustis
Ronaldo Bahamon
Jason Barker
Juan Barquin
Jorge Barrueco
Brian Bellissimo
Laura Benitez
Marlyce Benjamin
Richard Berry
Leo Binns
Corey Bloom
Josiah Bradley
Dan Branam
Somaria Breary
Aaron Brenker
Stephen Brevig
Daniel Brito
Daniel Bulgas
Jorge Bustamante
Manuel Buznego
Maria Carvajal
Michael Castillo
Richard Cassvan
Miriam Ciera
Joanne Clancy
Scott Clancy
Lauren Cohen
Paul Conley
Xavier Cortes
Maureen Cordoba
Maurice Cordova
Pedro Cortes
Tracy Cristal
Kenneth Cypress
Stefan de Solo
Angel De Fana
Jose Del Rio
Judy Del Rio
Stephanie Ann Diaz
Rachele Dodard
Victor Dominguez
Hanna Ellis
Joanne Espinosa
Manny Espinosa
Ammy Fajardo
Tatiana Fajardo
Isis Farinas
Maria Felita
Pedro Fernandez
Pedro Fernandez Sr.
Derek Ford
Jared Forgacs
Angel Franco
Noemi Franco
Jessica Freedman-Kessler
Charles Garcia
Clary Garcia
Wendy Godinez
Justin Gomes
Daniel Gonzalez
Gabriel Gonzalez
Jon Gonzalez
Travis Goodman
Danny Gorrin
Sarah Grattan
Caitlin Griffin
Chris Guanche
Karla Guerra Jiminez
Vanessa Haim
Tuezday Alize Hardnett
Paul Hernandez
Mark Herndon
Stephanie Hicks
Terrel Hopkins
Erin Hrin
Jason Hunter
Lizzie Hunter
Adam Huss
Yansari Ibargoyen
Angie Jaramillo
Christie Jaramillo
Chris Jarrett
Laura Jarrett
Daniel Jimenez
Kevin Kerin
Kim Kern
Jeff Kessler
Brandon King
Stephen Klein
Kelly Larcada
Rudy Larcarda
Paul Lederman
Talya Lerman
John Licona
Arlene Linares
Mike Linder
Ron Lopez
Alan Loughler
Michael Lowney
Brittany Lucas
Luther Lucas
Ashley Malagon
Victor Malagon
Andrew Maloney
Glenn Mannochio
Tammy Mannochio
Doron Markowitz
Casey Markus
Cassandra Martinez
Felix Martinez
Eiki Martinson
Candace McAfee
Angela McKinley
Heath McKnight
Elyse Mendelson
Eladio Mendez
Patricio Mendez
Nick Merino
Steve Mesa
Michael Migliore
Ruth Miles
Emile Milgrim
David Miller
Michelle Miller
Babbie Miqueli
Robert Miqueli
Chris Morris
Chris Munoz
Antonio Navarro
Lian Nograd
Aldo Novo
Gerald Obregon
Horacio Ochoa
Kevin Ondarza
Joe Onimus
Joshua Onimus
Lisa Ann Ortiz
William Osceola
Jaime Pacheco
Eric Padilla
Amy Palmer
Jeffrey Palmer
Mario Paredes
Ella Pedre
Rafael Pedre
Yuri Peralta
Reuben Pereira
Vanessa Perez
Brian Peterson
Mike Peterson
Chris Pickert
Phoebe Pinheiro
Paige Place
Alexandra Punales
Steven Quintana
Tony Quintana
Erik Ramirez
Preston Ransom
Gabriel Rhenals
Eddy Rios
Desy Rodriguez
Francisco Rodriguez
Leonardo Rodriguez
Michael Rodriguez
Monica Rodriguez
Andres Rovira
Kai Sacco
Emilio Saez
Alex Sanchez
Amanda Sanders
Sam Sanders
Troy Sanders
Geraldo Santana
William Santana
Amanda Sargent
Emily Schenk
Matthew Schenk
Ted Sedylmayer
Paul Segura
Carlos Sequiera
Alex Severiche
Rocky Shores
Peter Simone
Keith Sinclair
Leonardo Sivilla
Daniel L. Smith
Danny Smith
Sherri Smith
Jose Luis Soliman
Carmelo Spatazza
Justin Starr
Matthew Stewart
Brian Stuck
John Szolscek
Pam Szolscek
Christopher Szwanke
Serge Tavaras
Chad Taylor
Ryan Thayil
David Tincher
Jocelyn Tojo
Dustin Tollett
Heather Tomlinson
Shaun Torley
Lisa Trucchio
Lisa Upthegrove
Meysall Quintana
Dulce Valdes
James Valdes
Sean Valine
Jesse Vazquez
Leilani Velazquez
Jaimie Vermillion
Randohf Vidaurreta
Jehmeesah Walker
Stanford Warner Jr.
Benjamin Wilson
Bill Wilson
Jason Wooldridge
Mario Xavier
Sylvia Yanes
Harry Young
Matthew Zaitz
Ezequiel Zamora
Congratulations to you if you made the cut. This is going to be one awesome experience on Monday night. Keep your eyes on your emails for your details on how everything is going to go down. If you haven't gotten one by Thursday for some reason, you should email me immediately, so we can get the necessary information out to you. You don't want to miss out on this.
Now, onto the Approved Standby list (and, if you can't find your name on here, it means either you or whoever submitted you is firmly planted on our Black List). Remember, if you're on this list, it doesn't mean you are in for the screening, but it means you at least have a shot at getting in if seats open up the night of...
Cordelia Abrahms
Mark Adams
Anthony Agudelo
Michael Aguilar
Kevin Alayon
Dan Alexander
Frank Alfieri
Michael Alvarez
Jonathan Alves
Ezekiel Angulo
Christine Annichiarico
Nicole Applebaum
Jose Aquino
Michael Aquino
Ninnette Aquino
Rafael Arana
Manny Arean
Nicole Armijo
Tania Arriaza
George Ascui
Katherine Ashburn
William Ashburn
John Attaway
Paul Austria
Jason Ballard
Ashley Bates
Damian Beale
Erica Bellins
Julio Benitez
Charles Bessman
Michael Bessman
Rita Bessman
Jon Beauregard
Irbbins Biarrieta
Desiree Billie
Russell Billie
Andrew Blake
Ruth Blandon
Melissa Bosch
Kirsten Brady
Theresa Bramblett
Daniel Brito
Ausbon Brown
Christian Bueno
Luis Bueno
Gianni Burgos
Joseph Cammisa
Corey Canjelosi
Marcos Caraballo
Anthony Carbone
Katie Carbone
Kellie Carbone
Katiuska Carrasco
Salomon Carrasco
Gonzalo Cespedes
Melissa Cespedes
Chris Charlier
Elizabeth Chavez
Erika Chavez
Jason Cheeseborgho
Bryan Christian
Jeffrey Christian
William Cintron
Jennifer Condret
Reilly Connelly
Chris Contrera
Fabian Coy
Mike Craft
Thomas Crouch
Lydia Cruz
Emma Dabdub
Janice Davila
Rene Davila
Timothy Dearing
Rosalyn Delgado
Ryan Deugan
Belen Diaz
Miguel Diaz
Denis Diehl
Selina Dominguez
Jorge Duran
Juan Dussan
Jason Dworken
Eric Engmann
Oscar Esquia
Chris Exterovitch
Joel Fajardo
Robert Feldman
Cristian Feliz
Erin Fine
Edgardo Flores
Bryant Florez
Nancy Friedman
Eric Garcia
Gabriel Garcia
Juan Garcia
Lisa Garcia
Sherwin Garcia
Jill Garland
Carolina Gimenez
David Goldberg
Mitch Goldberg
Franchesca Gomez
Jamil Gonzalez
Jonathan Gonzalez
Manuel Gonzalez
Chad Gordon
Aaron Gouz
Cesar Gordado
Jeff Grant
Hilda Grindell
Robert Grindell
Carmen Guerra
Ricardo Guerra
Richard Guerra
Maria Guerrero
Alex Hacker
David Hahn
Brooks Hamer
Erin Heffron
Emily Hendricks
Matthew Hendricks
Alex Hernandez
Bryanna Herzog
Grenyelt Hurtado
Elizabeth Izquierdo
Juan Jaramillo
Evan Jaxtheimer
Jessica Jaxtheimer
Samuel Kahn
Jonathan Kane
James Karnib
Maricela Karnib
David Katz
Gabe Katz
Michael Katz
Angie Kennedy
Matt Kennedy
Robert Kennedy
Taylor Kennedy
Jessica Kessler
Christopher Kile
Carissa King
Sally Koss
Steve Kozak
Dave Kranick
Chris Laberdesque
Shawn Landsman
Jessica Lang
Pati Laylie
Simone Lee
Monica Leyva
Lissette Linares
Chris Little
Tom Lodge
Christopher Lombardo
Alexander Lopez
David Lopez
Luis Lopez
Olkin Lopez
Oscar Lopez
Danny Lopez-Calleja
Monik Lopez-Calleja
Jonathan Maano
Marie Machin-Peraza
John Maimone
Maryllis Maimone
Lynne McCrum
Devan McGauhey
John McHale
Osiris Maristany
Meliz Martin
Felipe Mena
Genesis Mendez
Claudia Mendoza
Gina Menge
George Mercado
J.J. Merein
Frank Merino
Veronica Merino
Nate Miller
Fabian Miranda
Teresa Montgomery
Pat Moran
David Moreno
Emmanuel Mori
Jean Paul Mountilou
Joel Mujica
Rick Nassar
Alexandra Nerios
Gary Niles
German Nino
Christina Nolley
Gabby Nolley
Richard Nolley
Richard Novo
David Nunez
Obryan Nunez
Heather Oddone
Fred Ogg
Todd Okolichany
Ricardo Oliveros
Evan Osceola
Gator Osceola
B. Camila Ozores
Ben Pachter
Sean Palmer
Robert Palmieri
Sandra Peralta
Maritere Peraza
Nelson Peraza
Carlos Perez
Rolando Perez
Jennifer Pierre
Barbara Pilco
Eric Plowe
Adam Pasternack
Ross Pasternack
Michael Pinto
Adam Prawlocki
Natasha Prawlocki
Carlos Prieto
Jose Prieto
Angel Ramirez
Beatriz Ramirez
Michael Ramirez
Renato Ramirez
Amelie Regalado
Sabrina Reis
Karla Reyes
Clinton Reynolds
Dean Reynolds
Maritza Reynolds
Kieran Rieders
Steven Rifice
Emily Rimada
Michelle Rivera
Gregg Rivero
David Robles
Alex Rodriguez
Francisco Rodriguez
Jerel Rodriguez
Jorge Rodriguez
Robert Rodriguez
Vanessa Rodriguez
Gus Rojo
Matthew Roles
Anthony Roman
Jorge Rubio
Yuriana Rubio
Ruky Saavedra
Hector Saenz
George Sadowski
Greg Sadowski
Javier Saldarriaga
Barbara Sanchez
Elizabeth Sanchez
Anthony Sanso
William Sanso
Phil Santa-Maria
Lazaro Santos
Noemi Sardina
Leah Sheaf
Daniel Shearouse
Donald Shockey
Miriam Sierra
Ryan Simcox
Gladys Simeon
Alfred Smith
Kara Sonsky
Matt Spence
Erica Stanley
Brian Styron
Mildred Styron
Shannon Sullivan
Veronica Tatis
Gioconda Taylor
Brendon Teetor
Noah Tennyson
Jared Toft-Nielsen
Jonathon Toft-Nielsen
Jeremy Trilling
Steve Urich
Paul Urquiza
Chris Velasco
Cristina Valdes
John Vallejo
Cesar Vazquez
Ed Venero
Claudia Villalta
Jose Villanueva
Luis Villanueva
Jared Wallace
Lindsey Wallacer
Matt Walter
Julia West
Warren Wilson
Brian Wohlhurst
Andres Zambrana
Alex Zapata
Karina Zayas
Alicia Zweig
Emails are on the way, so keep your eyes peeled, and I look forward to seeing a lot of you out on Monday night for this piece of awesomeness.
-Billy Donnelly
"The Infamous Billy The Kidd"
Follow me on Twitter.
Like me on Facebook.