Ahoy, squirts! Quint here with today's Behind the Scenes Picture.
Today's image is exhibit A in why model work rules. The little glimpses of the future war we got in both of James Cameron's Terminator films really left me wanting for me, which is a good thing because when we got that more with Terminator: Salvation I suddenly didn't want it much anymore.
However, I'm sure if we ever got Cameron's future war-set Terminator film I wouldn't be saying that. Anyway, what we did get was tremendous and today we get to focus on one of the best elements of that future war: those badass giant machine tank bastards.
This image has everything… fire, badass model work and a guy in the foreground to give it some scale (Hooper knew what he was talking about on that one).
Many thanks to Michael Heintzelman and the Practical Effects Group for the shot from Terminator 2: Judgment Day! Enjoy!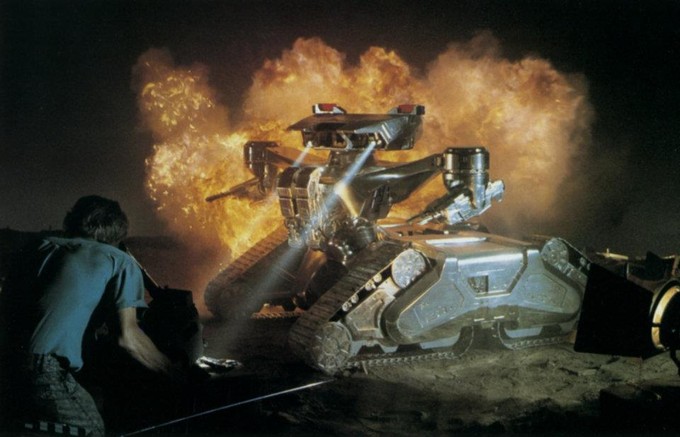 If you have a behind the scenes shot you'd like to submit to this column, you can email me at quint@aintitcool.com.
What the hell… let's go ahead and feature another Cameron sci-fi sequel with tomorrow's pic.
-Eric Vespe
"Quint"
quint@aintitcool.com
Follow Me On Twitter
I've got a lot of maintenance work to do on the previous BTS articles, but you can visit two pages worth of images (beware of some broken links thanks to the last server shift): Click here to visit Page One and Click here to visit Page Two