Ahoy, squirts! Quint here with today's Behind the Scenes Picture.
Boy oh boy, do I have a really great shot for you today. Let's jump into the way back machine and step back a good 38 years when a young idealistic filmmaker named George Lucas was prepping a sci-fi epic that would soon change motion pictures forever.
This photo comes from late 1975 as Lucas visited his team and saw how one of his robotic characters, a squat little droid named R2-D2, was coming along. Constructed mostly from wood, the little bugger was taking shape and someone decided to snap a photo of Lucas and the in-the-works R2. That photo is below.
I particularly love seeing the place-holder parts, like the spatula part that's doubling as his arm. Anyway, I love this pic and I bet many of you will to. Thanks to Robert Miller and the PEG for the image! Enjoy!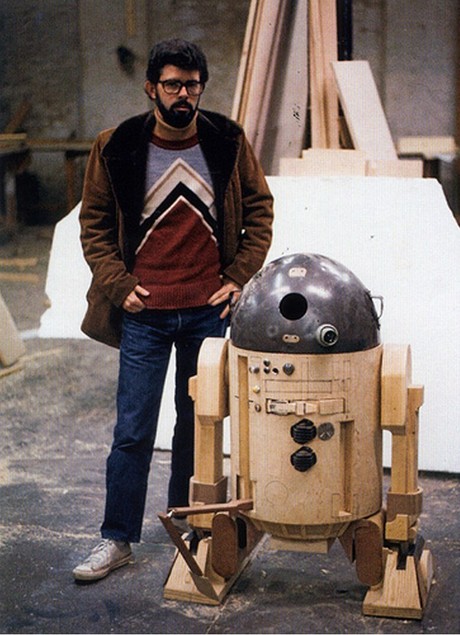 If you have a behind the scenes shot you'd like to submit to this column, you can email me at quint@aintitcool.com.
Tomorrow's pic will hunt and kill you.
-Eric Vespe
"Quint"
quint@aintitcool.com
Follow Me On Twitter
I've got a lot of maintenance work to do on the previous BTS articles, but you can visit two pages worth of images (beware of some broken links thanks to the last server shift): Click here to visit Page One and Click here to visit Page Two