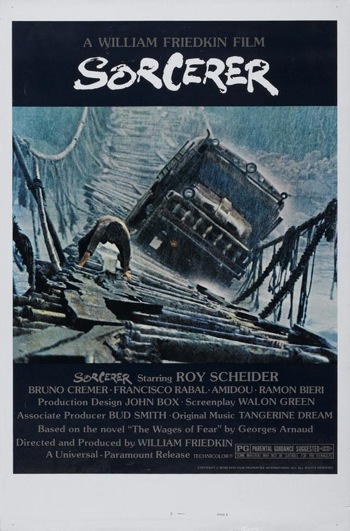 Beaks here...
After years of clamoring from cinephiles and, most importantly, some legal action from William Friedkin, it appears that SORCERER is finally getting the restoration and re-release it richly deserves.
The South America-set reworking of Henri-Georges Clouzot's WAGES OF FEAR had everything going for it when initially released to theaters in June of 1977. Friedkin was at the height of his filmmaking powers, while Roy Scheider was a legit movie star (another reason why the 1970s were The Best Film Decade Ever), but the pricey film got lost in a crazily competitive market dominated by two runaway hits (STAR WARS and SMOKEY AND THE BANDIT). Friedkin believes it was a casualty of the shifting zeitgeist. Whatever caused the film to miss with audiences in '77, ongoing rights issues between Universal and Paramount kept the film from ever receiving a specialty re-release on DVD or Blu-ray.
This is all about to change. When Friedkin sued Paramount and Universal last year (a lawsuit he subsequently dropped), he was able to clarify the rights picture. When I interviewed him last January, he was about to meet with Universal to see if they were willing to do anything with the film, or sell it to the more restoration-minded Warner Bros.
Today, Friedkin revealed to The Wrap that a "major studio" is involved in creating a new digital print, which will hopefully be unveiled at this August's Venice Film Festival. Here's how Friedkin explained the process to The Wrap:
We're working off the original negative, which is in pretty good shape, but without changing the original concept we have to bring it back in terms of color saturation, sharpness and all the stuff.
As I was writing this piece, our own Harry Knowles spoke with Friedkin, who told him that they are currently in the final stages of color timing. There's no definitive news on how widespread the re-release will be, but it's wonderful to know that we will finally have a proper digital copy of SORCERER to watch again and again and again. This might sound excessive, but if you've seen SORCERER, you know the hypnotic power of Friedkin's staging, Bud Smith's editing and Tangerine Dream's score. I want my copy now.