Ahoy, squirts! Quint here with today's Behind the Scenes Picture.
I've spent most of my life in Central Texas. The Alamo is kind of a big deal, even before Tim League took the name and created an awesome theater chain out of it, believe it or not. Even super lefty liberal Texans have reverence for this battle and those that took part in it.
John Wayne's movie about that battle is a little silly, but I quite like it. It's certainly heads and shoulders better than the bland studio version put out a decade ago. John Wayne playing Davy Crockett is still a headscratcher today, but whatever. I like him in the flick and he clearly had a passion to tell this story.
Today we get a look at Wayne on the set, dealing with his directorial responsibilities the way they did back before the miracle of cell phone technology! If you imagine he's ordering pizza for a few hundred Texans and Mexicans this photo becomes at least 2.5% funnier.
Thanks to "Mister Blue" and '50s Westerns for providing the image!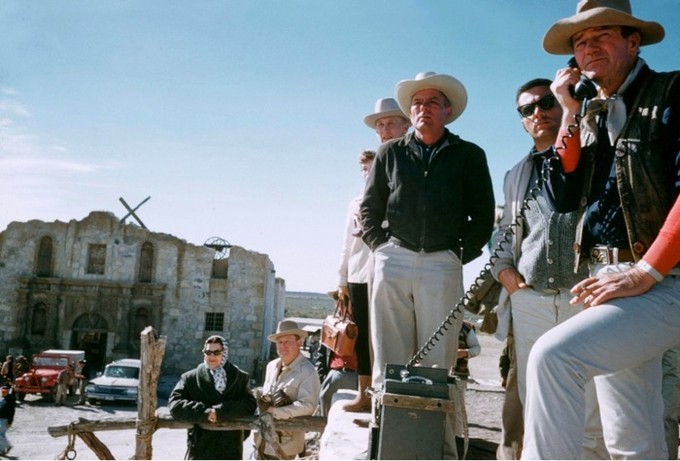 If you have a behind the scenes shot you'd like to submit to this column, you can email me at quint@aintitcool.com.
Before the prequels there was tomorrow's pic.
-Eric Vespe
"Quint"
quint@aintitcool.com
Follow Me On Twitter
I've got a lot of maintenance work to do on the previous BTS articles, but you can visit two pages worth of images (beware of some broken links thanks to the last server shift): Click here to visit Page One and Click here to visit Page Two