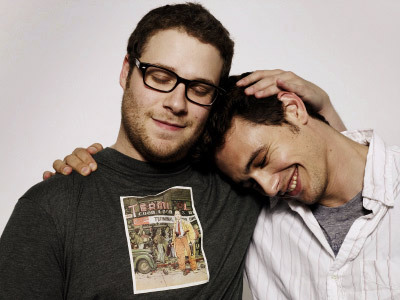 The Kidd here...
Seth Rogen has been hit or miss in recent years (KNOCKED UP, 50/50 good, FUNNY PEOPLE, PAUL bad), but when he pairs up with James Franco, the laughs seem to come together rather easily. Therefore, getting together with Franco again seems like a great idea, and one Rogen is pursuing, with The Hollywood Reporter reporting that Franco is being pursued to star in THE INTERVIEW, which Rogen will not only co-star in, but also direct.
THE INTERVIEW would have a good-looking talk show host (which is where Franco would slot) and his producer, to be played by Rogen, caught in the middle of an assassination plot against the North Korean prime minister.
The duo produced excellent results with PINEAPPLE EXPRESS and THIS IS THE END looks pee-your-pants funny... so THE INTERVIEW...? Yeah I'm in for now.
-Billy Donnelly
"The Infamous Billy The Kidd"
Follow me on Twitter.
Like me on Facebook.