Ahoy, squirts! Quint here with today's Behind the Scenes Picture.
Yesterday I said today's pic would be striking… because it's from 1944's Cobra Woman. Get it? Striking? Get it? Ain't I clever?
I've actually never seen this flick, from Robert Siodmak, known for his nior work like The Killers and Criss Cross, but after devouring the Val Lewton box set a few years ago I'm definitely interested in these 1930s and 1940s off-beat horror tales.
I picked this photo because of how well it depicts early filmmaking. It blows me away to see the size of the cameras they used, although to be fair I think the giant structure on that crane is mostly the case constructed to quiet the camera so they can roll sound (also known as a blimp). This was their workaround in the early days of talking pictures. Still, look at that thing! It's a the size of a fridge!
Enjoy this shot, featuring star Maria Montez being photographed with that monster of a camera system.
Thanks to the good folks at Decaying Hollywood Mansions for providing the picture!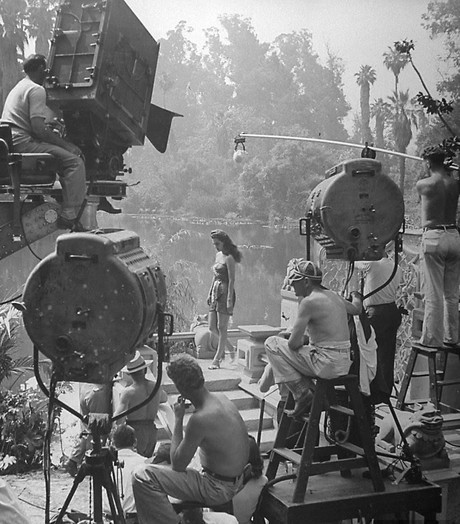 If you have a behind the scenes shot you'd like to submit to this column, you can email me at quint@aintitcool.com.
Tomorrow's pic features a rather interesting phone call happening at rather interesting location.
-Eric Vespe
"Quint"
quint@aintitcool.com
Follow Me On Twitter
I've got a lot of maintenance work to do on the previous BTS articles, but you can visit two pages worth of images (beware of some broken links thanks to the last server shift): Click here to visit Page One and Click here to visit Page Two