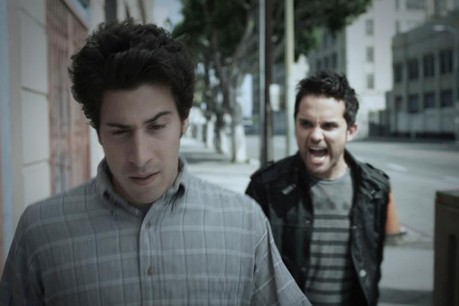 SNAP is a psychological thriller about a young loner who is socially awkward and reclusive composer of underground dub step music. Though he has thousands of fans and followers of his music online, Jim has no family or relationships in the real world- except for a mysterious friend who equally cheerleads and goads the extreme introvert. When Jim befriends a cute social worker named Wendy, he finally begins to come out of his shell.

Wendy, also a fan of the dub step underground, introduces him to a DJ friend who who invites Jim to show off some of his stuff for a real audience. It seems for once that Jim's social life may finally be taking a turn for the better, however failed advances toward Wendy send Jim into an emotional spiral that nobody could have predicted. Supported solely by his mysterious friend who doesn't always dole out the most productive advice, Jim continues down an increasingly dark path from which he can't turn back.

I don't want to spoil the ending here, but as the story unfolds, a few unexpected twists and some clever misdirection plot-wise make for a nice little twisted story.

Co- directors Youssef Delara and Victor Teran employ a hypnotizing blend of original dub step music by composer Reza Safinia with very stylized visuals to create Jim's cloistered world. Though the theme of mental illness plays are role throughout the film, it serves merely as the context for a singular story.

Nikki Reed as Wendy deftly illustrates the conflicted emotions of her character while never betraying certain elements that ultimately make the story a real success. Thomas Dekker's Jake maintains a certain level of mystery that some viewers may see through early on and others may not catch until later in the film. Nevertheless, his intensity throughout the film is a nice contrast to Jim's uneasiness.

SNAP is a pretty satisfying thriller that leaves many questions throughout the film unanswered right up until the very end. The pacing paired with the dominant use of dub step tracks maintains the momentum of the sometimes meandering storyline culminating in a pretty fun surprise ending.

I'll be following up my review with an interview with some if the cast as well as the directors of the film very soon, so stay tuned.


- Rebecca Elliott
"Annette Kellerman"