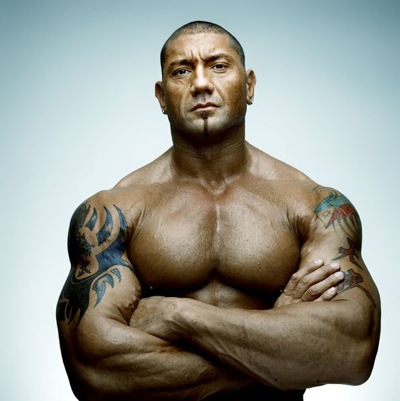 Beaks here...
After a very extensive auditioning process, Marvel Studios and James Gunn have found their Drax the Destroyer for next year's GUARDIANS OF THE GALAXY. According to The Hollywood Reporter, it's former WWE Heavyweight Champion Dave Bautista!
Bautista joins Chris Pratt in the Marvel Phase Two film, which will further develop the cosmic goings on introduced in THE AVENGERS. If Marvel takes a traditional approach to the Thanos storyline, Drax will play an important role in THE AVENGERS 2, which would explain why they took their time casting this role. Many actors were in the running, but they all - including Jason Momoa - signed the same standard deal before auditioning. There were no negotiations and no lowball offers. Just screen tests. Ultimately, Momoa and the others lost the role to Bautista fair and square.
I enjoyed Bautista as Brass Body in RZA's loopy THE MAN WITH THE IRON FISTS, so this casting works for me. As for who's next to be cast, I've a feeling Rocket Raccoon might be a priority.