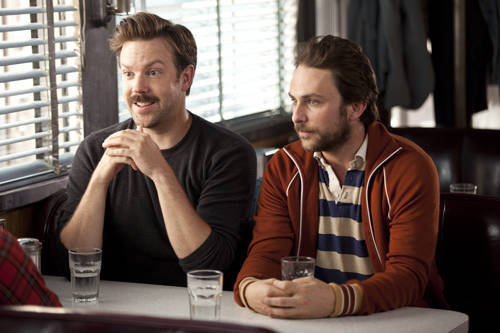 Beaks here...
It was bound to happen, I guess. After lending comedic support to Justin Long in GOING THE DISTANCE and buddying up with Jason Bateman in HORRIBLE BOSSES, Jason Sudeikis and Charlie Day are finally getting their own two-hander comedy.
According to The Hollywood Reporter, Universal Pictures has bought T.J. Fixman's buddy-cop spec ONE NIGHT ON THE HUDSON as a starring vehicle for the duo. The story centers on a mismatched pair of cops - a cynical veteran and a straight-laced rookie - faced with the unenviable task of hauling a federal witness from New Jersey to Manhattan. Both the police and the crooks have a vested interest in making sure this witness never makes it to the island. Sounds like a telescoped MIDNIGHT RUN. Come to think of it, it also sounds like this might be another three-man effort. Hm.
All we know right now is that ONE NIGHT ON THE HUDSON will reunite Sudeikis and Day with their HORRIBLE BOSSES director Seth Gordon. They will then re-reunite for HORRIBLE BOSSES 2.