Logo handmade by Bannister
Column by Scott Green
We're teaming up with GKIDS, the distributor of Studio Ghibli's latest movie FROM UP ON POPPY HILL, for an art contest. The prizes are awesome (more on them below). The movie is written by the legendary Hayao Miyazaki and directed by his son Goro Miyazaki.
Here are the rules:
1. Your fan art can take many forms, whether you want to design a poster for a specific Ghibli movie, art centered on a favorite character, just choose whatever strikes you that best demonstrates your love of Ghibli.
2. Plagiarism, Photoshop copying, and so on is not allowed and will be immediately DISQUALIFIED.
3. Email your entries with exactly the subject line "POPPY HILL POSTER" to this address:
montycristo@gmail.com
Feel free to tweet your entries, and make sure to use hashtag #PoppyHillContest
Winners will be announced right here on AICN on Thursday, March 14th.
GOOD NEWS!: The deadline has been extended to March 20th! Be sure to check back on the 21st to see the winners!
PRIZES:
1ST PLACE:
Pair of NYC opening weekend tickets (these only do you good if you're in New York, of course)
Signed poster
Umi Statue – Limited edition statue based on the original Japanese poster (1 ft x 7 inches x 3 inches)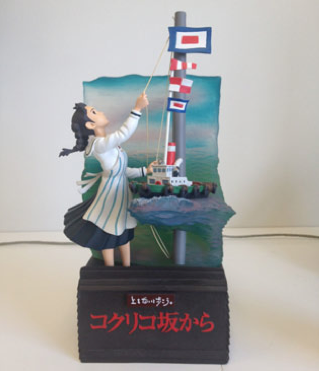 The Art of From Up on Poppy Hill Book – beautiful 253 page book with background and character sketches, layout art and interviews with Hayao Mikyazaki and Goro Miyazaki, in Japanese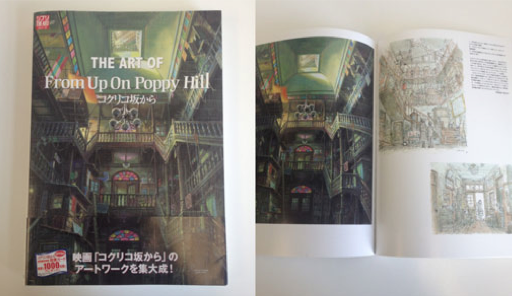 Poppy Hill notebook – cover is the original Japanese poster designed by Hayao Miyazaki. Page are lined with light blue and character watermarks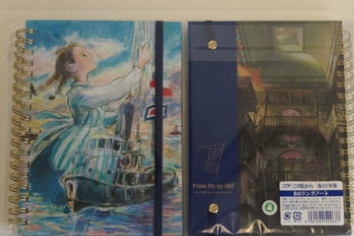 Poppy Hill wrist watch – limited edition watch, face is the image of the original Japanese poster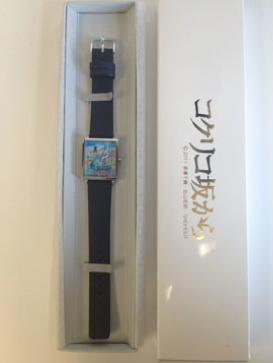 Flag Pins – Two pins of the flags that Umi raises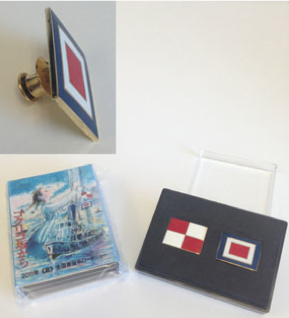 2ND PLACE:
Poppy Hill wrist watch
Poppy Hill notebook
Signed poster
Flag Pins – Two pins of the flags that Umi raises
3RD PLACE:
Poppy Hill notebook
Signed poster
Flag Pins – Two pins of the flags that Umi raises
Catch the movie in its theatrical run starting next Friday.
March 15: NYC - IFC Center & Elinor Bunin Munroe Film Center

March 22: LA - Landmark



March 29:
Chicago - Landmark Century 7
San Francisco - Landmark Embarcadero
Palo Alto - Landmark Palo Alto Square
Berkeley - Landmark Shattuck Cinemas
Boston - Landmark Kendall Square
Seattle - Landmark Harvard Exit
Minneapolis - Landmark Uptown
San Diego - Landmark Hillcrest
Set in Yokohama in 1963, the film centers on a high school couple's innocent love and the secrets surrounding their births. The story takes place in a Japan that is picking itself up from the devastation of World War II and preparing to host the 1964 Olympics – and the mood is one of both optimism and conflict as the new generation struggles to embrace modernity and throw off the shackles of a troubled past. The film's rich color palette and painterly detail capture the beauty of Yokohama's harbor and its lush surrounding hillsides, while the 1960′s pop soundtrack evokes nostalgia for an era of innocence and hope.