Ahoy, squirts! Quint here with this month's look at what's happening in the world of Geek Games.
You may have seen me post about my mom having a tough time this month. I've had to step back for a week or two to help her clean out her house, move and organize the set up at her new place so that she can get contractors in to her old place and get it on the market. Everything's going extremely well, it's just been demanding almost 100% of my attention these last few weeks.
So, I haven't had much time to play any video games this month, but usually I'd like to take this spot to go over my impressions of the games I mentioned in the last Geek Games article. I didn't even buy or Gamefly Crysis 3, but I had pre-ordered Aliens: Colonial Marines and Dead Space 3 and gave those games a little play just before diving in headfirst to Operation: Help Mom.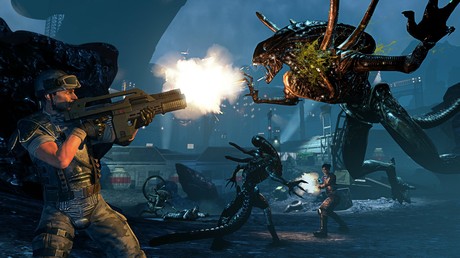 Let's start with Aliens. My hope for this game was based on the fact that they got the Aliens cast members back to play a bit and that Gearbox was involved. I should have known better, especially with as much as this game has been pushed back (which is sort of the video game equivalent of a movie being put on the shelf for 2 years).
Here's a note to game developers: If you're not going to let the user save their game you better have a damn good autosave feature. I can't tell you how frustrating and monotonous it was playing through some of these levels where the aliens are so overpowered that all it took was a couple of hits to be killed and set back 5 to 10 minutes of gameplay.
That's the least of this game's problems, though. The dialogue is pretty stiff and macho marine heavy, but not in the entertaining way that Cameron was able to pull off. Instead it's clunky and feels like it's trying too hard.
The look and feel of the universe is fine and there are some really great geek nods as you wander around LV-426 (which apparently didn't get all that messed up from the reactor meltdown, a point which is brought up and quickly explained away in what results in basically "Never mind that…"), including finding Hudson cocooned up with a gaping hole in his chest and having to use the smart guns from the longer cut of Aliens in one particularly intense section of gameplay.
But it's a pretty typical point and shoot FPS and gets tiring. The game is also glitchy, the animation looks last gen, not current gen, and the gameplay seems to go out of its way to be frustrating with low resources, way overpowered aliens and that horrible save system that makes getting through half the levels a game of rinse/wash/repeat until you have it memorized enough to make it through in one piece.
I will give the Gearbox guys props for one level, in which you have no weapons and have to sneak through the sewer system past eyeless acid exploding aliens who are attracted to sound. It was the one truly intense and well thought out level, even if the "sightless monsters attracted by sound" trope is well used in horror video games (Silent Hill, anybody?).
Count me disappointed with this one.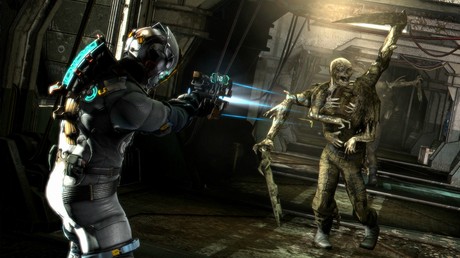 Dead Space 3 on the other hand was great. I really can't wait for things to calm down so I can replay the campaign and take my time. I rushed through it in order to beat it before everything with mom had to happen, but even when rushing through it I was very impressed with this third installment. The first two games were very space centric and there is an element of that in this game, but most of it puts us on an icy planet and stylistically separates itself from the first two games.
I especially loved the co-op system and how innovative it is. The gameplay changes if you're playing with a friend or by yourself. There's different dialogue option, different missions and how you play through certain levels changes depending on if you're playing with a partner or not. That's really damn cool and I don't feel like people are giving that enough props.
There are co-op only levels that are difficult, but pretty badass when you're playing with a partner. My buddy Aaron was John Carver, who was seeing his dead kid running around and creepy toys and shit while all I could see on my screen was a regular ship interior. Carver's going a little crazy and it was awesome to hear Aaron go "Holy fuck, did you see that?!?" and start shooting at the walls.
Storywise the game is pretty straight forward, but not clunky. They go out of their way trying to get the player to identify with all three key participants, even though one of them is going more and more bonkers as the game progresses.
So, big thumbs up on Dead Space 3. I'm loving this universe. Someday someone really cool is going to adapt this into a good movie and people will scream their worried little heads off in theaters all over the world.
NEWS
I think each month I'm going to incorporate a little news section to this article, gathering some info about upcoming titles and the bigger news within the gaming world.
SONY'S PS4 OFFICIALLY ANNOUNCED
The biggest news that hit this past month was the announcement of the new Playstation. We've all known that the next gen consoles were on their way. As tight-lipped as the gaming industry is they can't keep something like that from leaking out. A little over a week ago Sony got the jump on Microsoft and announced the PS4.
They oddly didn't showcase the actual system, but I can say that I like the fact that the new system will start up instantly and I'm intrigued by the ability to carry over your gameplay experience via smart phones and laptops. I'm also dreading it because when I get hooked on a game I desperately need to escape into the real world… but I don't have much willpower. If I could have continued hunting for bottle caps while grocery shopping during my Fallout 3 playthrough I never would have left the Capitol Wasteland.
Showing off a large amount of RAM and a faster Blu-Ray drive, the PS4 will be a monster graphically, I'm sure. The big disappointment is that due to moving from the PS3 Cell architecture to a newer, more PC-like, x86-64 architecture none of your PS3 games will be compatible with this new system, including your PSN titles.
Game prices won't change and everyone expects the PS4 to launch at the end of the year, starting at around $399.99. Xbox will likely announce their next gen console next month or, at the latest, at E3 in June.
One more bit about the PS3… at the announcement they made mention of the fact that they've been working with many game studios to get input on the new system and one of them was Bethesda, which makes me jump up and down like a school girl because that further strengthens my theory that Bethesda is prepping Fallout 4 for both next gen consoles! When that game comes out, I apologize in advance, but you won't see much of me here… or in real life. In fact, I might need someone to volunteer to collect my jars of pee on a weekly basis.
NEW BATMAN ARKHAM GAME CONFIRMED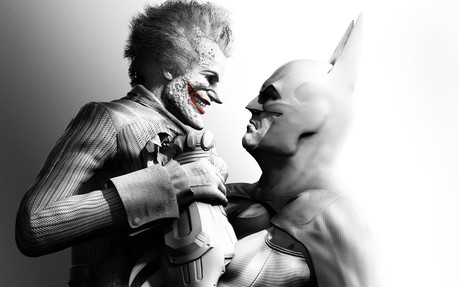 These Arkham games are awesome and any news of a new one is good, especially if that news is that a new game is on the docket for this year. Time Warner's CFO John Martin told investors that the Batman Arkham game franchise will be see a new release this year, but it's unknown whether or not developer Rocksteady Studios will be behind the next installment.
Now let's take a look at what's coming up this month, game-wise!
Reboots/prequels aren't just for movies anymore. This month is lousy with reboot/prequel video games. Square Enix launched the newest Tomb Raider game, and they're going back to basics. Reintroducing Lara Croft is a big job, but it seems Square Enix knows they have a valuable franchise here and are treating it well.
Take a look at the gameplay footage below. Looks pretty damn good to me.
The game is available on Xbox and PS3.
If you're feeling really rich and want your own super posable Lara Croft (don't make this weird) you can spring for the Collector's Edition which gets you the Lara figure, a cooler package, a litho, a map, iron-on badges, a CD soundtrack and access to a super special weapons pack. That'll run you $99.99 on both PS3 and Xbox.
I'm surprisingly looking forward to this one. I was never super huge into the Lara Croft games, but just looking at that gameplay footage it seems to me like this one is going to be a lot of fun.
What about…
Here's another prequel game, detailing the time before the first game, but after Kratos was betrayed by Ares. God of War is my favorite Playstation exclusive franchise. I legitimately love this series, but I don't know what to think about this newest game. With Tomb Raider it looks like they've updated the style of the game and this one looks like more of the same.
However when it comes to fighting a crap-ton of mythological monsters maybe that's not such a bad thing. I just don't want to tread water. I like progression in my stories and we already kicked Ares' ass way back in the first game. They have added a multiplayer component, though.
The Gamestop pre-order gets you the Champions Pack, which (no shit) lets you dress up as King Leonidas from 300. You also get a 48-hour multiplayer XP booster, four unique armor sets (Achilles, Perseus, orion and Odysseus) and you also get a double sided God of War poster.
The Amazon pre-order gets you the Mythological Heroes armor set, a demo disc for The Last of Us and a $10 Amazon store credit.
Looks like you get more bang for your buck from the Gamestop pre-order, but if you like saving $10 more than looking like Gerard Butler then Amazon is for you.
Also available for $20 more is the Collector's Edition below, which gets you the Kratos statue, a digital copy of the game's soundtrack, a pass for future DLC and a steelbook case for your game. That'll run you $79.99.
God of War: Ascension releases March 12th exclusively on the PS3.
Proving March is video game prequel month we have another prequel on deck, this time it's a new Gears of War game. Gears of War: Judgment follows franchise favorites Damon Baird and Augustus "Cole Train" Cole in the years before the events of the first Gears of War game.
I dig these games, but I share some of the same worries about this one as I do about the other "of War" above… is it going to be more of the same? They do seem to be putting a lot of focus on the multiplayer, making it class based (medic, soldier, scout, etc, etc), but the most compelling thing to me is they've suggested that they're making the campaign a more sandbox style world, not the strict scripted level by level structure of the Trilogy. Since they're setting it in the early days of the invasion that should give plenty of opportunity to have some fun roaming around the war-torn earth.
Amazon's pre-order gets you a download code for the original Gears of War game, a weapon called the Classic Hammerburst and an exclusive multiplayer characters skin ("Young Dom"). Gamefly's pre-order bonuses include the Hammerburst, a weapon skin and an exclusive "Young Marcus" multiplayer skin. The game releases March 19th exclusively on the Xbox 360.
Starcraft II: Heart of the Swarm is the first expansion pack to the insanely popular PC series. As you well know I'm a noob at PC gaming. Not my style. I'm happy for PC gamers, though. They love it and definitely aren't afraid to "share" that passion.
Releasing on March 12th, this expansion set offers 20 new mission, improved graphics and new multiplayer maps. The Collector's Edition isn't available on Amazon anymore, but Gamestop still has them. For almost double the money of the regular, you get a 2-disc Behind the Scenes DVD and Blu-Ray set, soundtrack, an Art Book, a mouse pad and exclusive in-game content including something called a Torrasque Ultralisk & Portraits, World of Warcraft: Pen Baneling and Diablo III: Blade Wings and Banner Sigil.
All that's Greek to me, but I didn't want the PC gamers to feel left out.
Here's gameplay footage!
Walking Dead: Survival Instinct is going to have some mighty big shoes to fill. Telltale's Walking Dead game was simple, but did a fantastic job of character building and giving you a series of the Walking Dead trademarked "fucked if you do, fucked if you don't" choices. If you didn't play it, it's not too late to correct that mistake.
The big difference between the two Walking Dead video games is that this one is firmly entrenched in the universe of AMC's Walking Dead TV series. Taking place in the time between the outbreak and when they run into Rick, you play as Daryl Dixon alongside his dickhead brother Merle with series actors Norman Reedus and Michael Rooker providing the voices.
The graphics don't look all that impressive (in fact, I'd say it looks downright early aughts PC game cheap), but I'm a sucker for tie-ins. I love the thought of living in a universe I'm enamored with, so I'll probably buy this one.
Gamestop's pre-order exclusive gets you the Herd Mode Challenge DLC and a Walker Ear Keychain. Amazon's pre-order comes with an exclusive Walker Execution weapon pack that includes a knife, hatchet, kukri and machete.
Walking Dead: Survival Instinct is released on March 19th and will be available on the Xbox, PS3 and WiiU.
And last, but certainly not least…
This is the game of the month as far as I'm concerned. I've been waiting for this one for years. I'm a die hard fan of the first Bioshock game. Design, graphics, gameplay, story, character, iconography… it's perfect. The sequel is fun, but more of the same… but with the third Bioshock they're taking us about as far away from Rapture as they can. We go from the ocean floor to a city in the clouds with Bioshock Infinite.
You guys have no idea how pissed off I'm going to be if this game doesn't blow me away. I'm already worried it's going to be way too mega-complicated with all the fist-rail riding and bird-throwing and stuff, but that doesn't really curb my excitement.
The Gamestop pre-order bonus gets you access to an online puzzle game that allows you to build up money and parts that will start you off ahead of the curve as well as a badass shotgun called the Comstock Shotgun. Amazon's pre-order gets you that same early online puzzle game access as well as a free e-book of Mind in Revolt, a prequel to the game.
Unless they push it back again Bioshock Infinite comes out March 26th on the Xbox, PS3 and PC.
If you're really hardcore you can get the upgraded Premium Edition which looks like this:
The Premium Edition runs you $20 more, but you get a 64 page Art Book, a digital Soundtrack (rad), three exclusive power-ups to start off with (The Bull Rush, which is an ability to knock an enemy down, Extra! Extra!, which gives you in game currency when you discover audio logs and Betrayer, which turns your possessed enemies into bombs when they die), avatar costumes for PS3 and Xbox players, a Lithographic Print, a Handyman Figurine and a Murder of Crows keychain. This is the version I pre-ordered and is available for Xbox, PS3 and PC as well.
That's it for this month. Coming next month is the DC fighting game INJUSTICE, the new JJ universe Star Trek game and Dead Island: Riptide, the follow up to the ridiculously fun zombie game. Stay tuned!
-Eric Vespe
"Quint"
quint@aintitcool.com
Follow Me On Twitter