John Ary here with a quick look at a few action figure lines that are making headlines this week... As always click on the photos for an embiggened version and for more info follow the pre-order links...
Predator Trophy Room from NECA
Every Predator needs a place to call his own. Where else can he hang his most prized trophies? NECA has heard the pleas from fans of its various Predator-themed toy lines and created this. This new 7-inch scale diorama play set was unveiled at this year's Toy Fair in New York with very little info. This week it went up for pre-sale and we got more details. Consider the diorama as a reward to the fans who have faithfully collected all the various Predators figures and exclusives over the last three years. The wall will hold up to 8 trophy skulls that came with your Predator action figures and will stand 12-inches tall by 11-inches in width. A large dinosaur-like skull will also come with the set. Other skulls will be sold separately. Look for it to arrive on Earth in August.
Jurassic Park 3D from Hasbro
We're getting a new round of Jurassic Park toys just in time for the film's return to theaters. The new series will feature fresh sculpts of dinosaurs like the Pachyrhinosaurus and the Allosaurus, along with 3.75-inch human figures that utilize parts from previously unused G.I. Joe sculpts. Look for these to hit toy shelves any day now. Thanks to JPToys.com for the info.
Dark Knight Trilogy Movie Masters from Mattel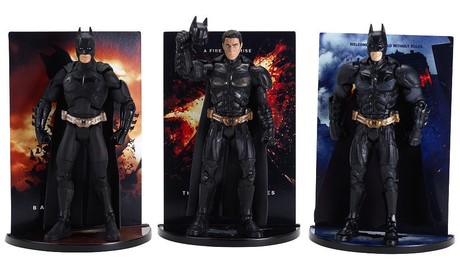 Toys "R" Us landed this exclusive three-pack celebrating Christopher Nolan's Dark Knight trilogy of films. Each version of the Batman shows off the progression of character's costume throughout the three movies. The maskless Dark Knight Rises figure includes either a removable mask or a broken headpiece. This set is available now or you can pre-order here.
S.H. MonsterArts Godzilla 1964 from Bluefin Tamashii Nations
In 1964, a greedy developer disrupted Godzilla's rest when he tried to build condos by the ocean. Nearly 50 years later Bluefin USA and Tamashii has decided to add this 6-inch scale beast to its MonsterArts figure line. Look for this web-exclusive to destroy Tokyo again in July.
Lego Minifigure Series 10
Meet the next wave of blind-packed minifigures from Lego. This series has a special addition in the form of a unique chase figure. Limited to 5,000 pieces worldwide, the gold gentleman in the upper right hand corner of the picture will be THE minifigure to find. These will hit retail later this spring.
And finally this week, Pixel Dan gives us a very in-depth look at the new Kre-O Battle Platform set featuring a classic-styled Duke, Roadblock and Cobra Commander.
That's it for this week. For more action figure newsm follow my toy blog ArticulationTimes.com on Twitter and Facebook for more news updates and subscribe to the AICN Youtube channel.