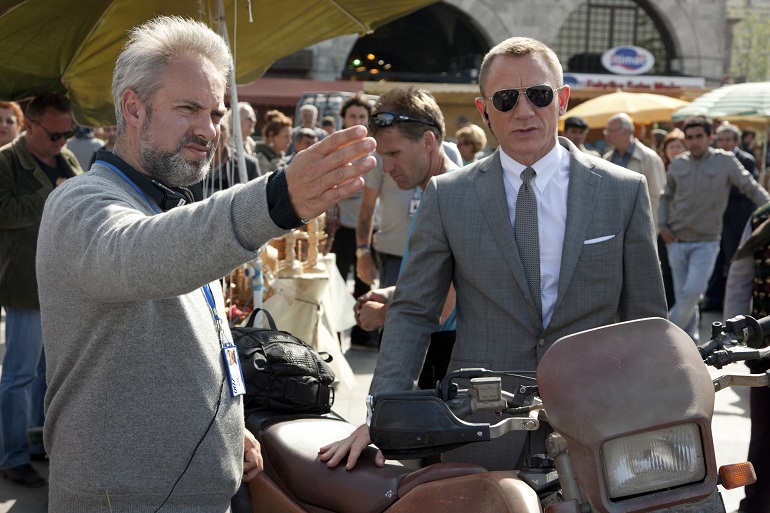 The Kidd here...
Not too long ago, there was this bullshit talk going around about Sam Mendes being somewhere in the neighborhood of 75% committed to directing the next installment of the James Bond franchise, following the incredible success of SKYFALL on his watch. Well, guess what...? 75% is still a ways from 100% as we learned today, with Sam Mendes telling Empire that he will not be back behind the camera for BOND 24, much to the dismay of I'm sure everyone who enjoyed the hell out of the last one and was left wanting more.
"It has been a very difficult decision not to accept Michael and Barbara's very generous offer to direct the next Bond movie. Directing SKYFALL was one of the best experiences of my professional life, but I have theatre and other commitments, including productions of CHARLIE AND THE CHOCOLATE FACTORY and KING LEAR, that need my complete focus over the next year and beyond."
Wow... passing on another go at one of the longest-standing franchises in cinema history after a billion-dollar effort in order to do Willy Wonka and Shakespeare on-stage...? That takes some seriously huge and very secure balls.
Mendes did in fact leave open the door for a possible return down the road - "I feel very honored to have been part of the Bond family and very much hope I have a chance to work with them again sometime in the future" - but it not being BOND 24 has to be a huge disappointment for the decision-makers behind 007 with Mendes helping shape the new direction of Daniel Craig's take on the character with the last film.
Barbara Broccoli and Michael G. Wilson released a statement on Mendes' departure, which reads, "We thoroughly enjoyed working with Sam, he directed our most successful Bond movie ever, SKYFALL. We would have loved to have made the next film with him but completely respect his decision to focus on other projects and hope to have the opportunity to collaborate with him again."
Yeah, that one definitely hurts.
So with BOND 24 having been targeted for a Fall 2014 release, and with SKYFALL co-writer John Logan long been penning the next script, the hunt is on for the next Bond director.
Who's your pick to take Bond forward?
-Billy Donnelly
"The Infamous Billy The Kidd"
Follow me on Twitter.
Like me on Facebook.