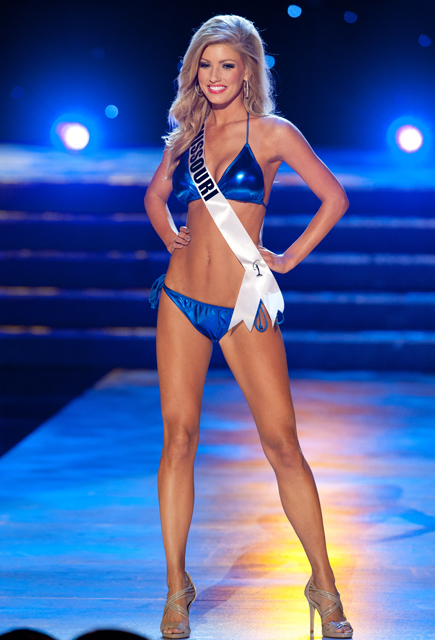 Sadly, Miss Missouri USA 2011 and pre-law student Hope Driskill, 23, the best-looking of this season's "Survivor" newcomers and one-third of what was left of her tribe's pretty-people alliance, was voted out last week by her far uglier tribemates.
Returning tonight:

Haunted Collector (9pm Syfy)

It's A Brad Brad World (10pm Bravo)

Rachel Zoe Project (9pm Bravo)
Premiering tonight:

Dukes of Melrose (10:30pm Bravo)

Feed The Beast (9pm Travel)
Wow! "Duck Dynasty" tied "Modern Family" and "American Idol" for first place last Wednesday. (I'm told it was the lowest-rated Wednesday episode of "Idol" in more than a decade -- but still!)
"Survivor" came back a bit from its weakest premiere ever.
"Nashville," which premiered with a 2.8 last autumn, hit a new series low last week.
Wednesdays, Jan. 9-Feb. 27, 2013
(adults 18-49; older weeks in parentheses; repeats in gray)
3.9 (4.1) (4.3) (4.6) (5.5) (5.5) (6.0) (---) American Idol
3.9 (---) (---) (---) (---) (---) (---) (---) Duck Dynasty
3.9 (4.0) (3.8) (3.7) (2.2) (4.2) (4.3) (4.7) Modern Family
2.6 (2.6) (---) (2.8) (1.6) (3.1) (2.9) (---) Criminal Minds
2.6 (2.4) (2.4) (---) (---) (---) (---) (---) Survivor
2.2 (2.0) (2.1) (2.0) (1.8) (2.2) (2.3) (2.6) Suburgatory
2.1 (2.3) (1.9) (2.3) (1.3) (2.5) (2.3) (2.4) The Middle
2.0 (1.9) (1.9) (1.9) (2.1) (0.8) (1.0) (2.2) Chicago Fire
1.9 (2.3) (1.9) (2.4) (1.5) (2.6) (2.3) (---) CSI
1.7 (1.9) (1.7) (1.7) (1.6) (2.0) (1.8) (2.1) The Neighbors
1.6 (1.6) (1.5) (1.5) (1.7) (0.7) (0.9) (2.1) Law & Order SVU
1.6 (---) (1.8) (1.7) (0.9) (1.9) (2.2) (2.1) Nashville
1.2 (1.1) (1.2) (1.2) (1.3) (0.8) (0.8) (1.4) Whitney
1.1 (1.0) (1.0) (1.2) (1.1) (0.7) (0.8) (1.3) Guys With Kids
1.0 (0.9) (1.1) (1.0) (0.9) (1.1) (1.1) (0.5) Arrow
1.0 (---) (---) (---) (---) (---) (---) (---) Psych
0.9 (0.9) (1.0) (1.0) (0.9) (0.9) (0.9) (0.3) Supernatural
0.8 (0.8) (0.6) (0.7) (0.7) (0.7) (0.7) (0.8) Top Chef
0.7 (0.7) (0.7) (0.8) (0.8) (0.8) (0.8) (0.7) The Daily Show
0.7 (0.6) (0.7) (0.7) (0.6) (0.6) (0.7) (0.7) Full Throttle Saloon
0.7 (1.1) (---) (0.5) (1.1) (---) (0.8) (0.8) NBA Basketball
0.6 (0.5) (0.7) (0.6) (0.7) (0.7) (0.7) (0.5) Colbert Report
0.6 (0.8) (0.8) (1.0) (0.8) (0.8) (1.1) (---) Workaholics
0.5 (0.8) (0.7) (0.8) (1.2) (---) (---) (---) The Americans
0.5 (0.5) (0.5) (0.5) (0.4) (0.6) (0.5) (0.5) Conan
0.5 (0.4) (0.3) (0.4) (0.4) (0.4) (---) (---) Ghost Hunters
0.4 (---) (---) (---) (---) (---) (---) (---) Boston's Finest
0.4 (0.4) (0.3) (---) (---) (---) (---) (---) Hoarding
0.4 (0.5) (0.5) (0.5) (0.5) (0.4) (0.5) (0.6) House Hunters
0.4 (0.3) (0.4) (0.5) (0.4) (0.5) (0.4) (0.4) House Hunters Intl
0.4 (0.6) (0.6) (---) (---) (---) (---) (---) My Strange Addiction
0.4 (0.4) (0.3) (0.3) (---) (0.4) (0.4) (0.6) Property Brothers
0.4 (0.4) (---) (---) (---) (---) (0.7) (0.4) Restaurant Impossible
0.4 (0.5) (0.4) (---) (---) (---) (---) (---) Southland
0.4 (---) (---) (---) (0.3) (---) (---) (---) Watch What Happens
0.3 (---) (---) (---) (---) (---) (---) (---) Stranded