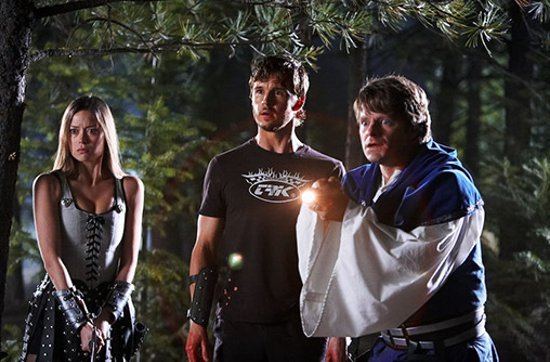 Nordling here.
I've been wanting to see KNIGHTS OF BADASSDOM since it was announced. It's got Steve Zahn doing the "lightning bolt" thing, it's got Peter Dinklage, currently on a career high with his work on GAME OF THRONES, and it just looks fun as hell. That online trailer sold me. What can I say, I'm a geek for this kind of stuff. One of my most anticipated movies for SXSW this year is ZERO CHARISMA, a D&D-inspired comedy. Sure, it's nerdy as hell, but we live in a world run by nerds, geeks, and LARPers. Embrace the mystery.
The cast and director of KNIGHTS OF BADASSDOM appeared at Comic-Con 2011 in Hall H to a very enthusiastic crowd eager to see their movie. Since then... nothing. The trailer got a lot of interest online, but then not a peep. It's been screened a few times, but never for journalists or the public. I remember talking to Joe Lynch at SXSW last year, excited for the movie, and he seemed excited to show it, but he was curiously silent on when it would finally make its way to the public. And now we know why.
According to www.badassdom.com, the movie has been taken away from Lynch and given a different edit, which would seem to violate the contract signed by Lynch and the production company. Wade Bradley, the CEO of IndieVest, the production company for KNIGHTS OF BADASSDOM, is planning to screen the new edit this week. What once was a 90+ minute movie under Lynch's cut has become a truncated 70 minute version, and thus far Bradley has refused to allow Lynch to finish his work and edit the movie to his vision. Bradley has claimed that the movie went vastly overbudget (although he approved every spending invoice) and, if the anonymous writer of the Badassdom site is accurate, removed members of IndieVest who hepled promote and support Lynch's version of the film.
We here at Ain't It Cool News always support the director's vision over the producers, and if the report is accurate Lynch's movie is essentially being held hostage. Furthermore, the time is fast approaching when no one will be able to do anything about it. Once Bradley sells KNIGHTS TO BADASSDOM to a studio for distribution, Lynch will not have his final edit. Joe Lynch deserves better, the cast deserves better, and we as movie fans deserve better. Artists whenever possible should have first say over how their films are seen, and hopefully they'll win out this time.
Nordling, out.