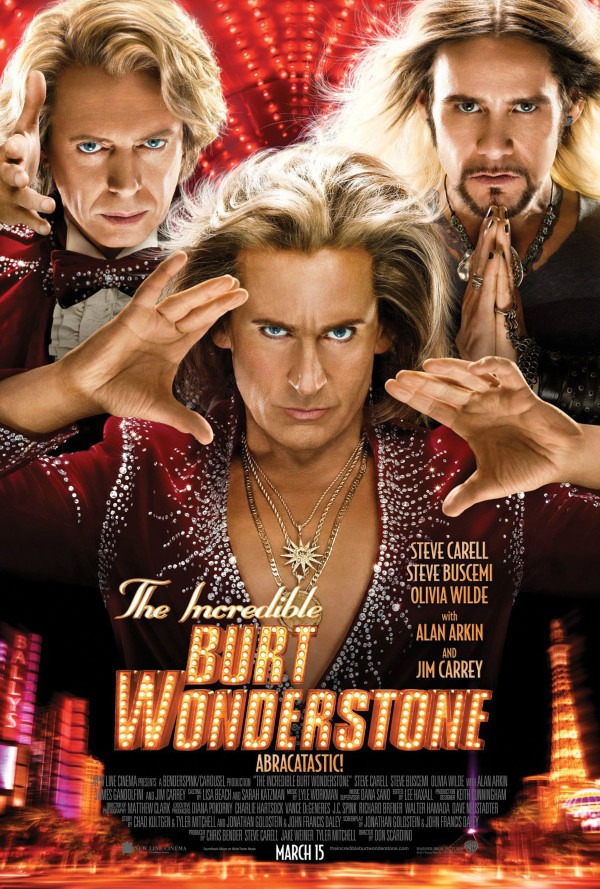 The Kidd here...
I'm always working my hardest to bring extra cool stuff down here to my South Florida stomping grounds, but, especially when something sweet is happening elsewhere, I try to see what type of magic I may be able to work, so that our Ain't It Cool readers where I'm stationed in the Miami area don't miss out. Harry premiered some awesomeness at Butt-Numb-A-Thon...? I try to bring it to you as soon after as possible. A film festival has something you've been dying to see...? Let me see what type of strings I can pull. This time, I've got something pretty incredible on our doorstep... literally.
THE INCREDIBLE BURT WONDERSTONE is set to premiere at this year's SXSW, kicking off the festival's Opening Night... and while so many of us wish we were in Austin to take in this night's festivities as well as the rest of the fantastic slate that's sure to follow, I was able to pull an Ain't It Cool exclusive screening out of my hat, so those who weren't able to attend didn't feel altogether slighted.
We're hosting an exclusive Ain't It Cool News advance screening of THE INCREDIBLE BURT WONDERSTONE down here in South Florida on Monday night, March 11, at 7:30 p.m. at the AMC Sunset Place 24 in South Miami.
The entire theatre is ours to see Steve Carell, Steve Buscemi and Jim Carrey pull out all the magical stops for this comedy, so, without wasting any more time, let's get to filling these seats.
You want in on the guest list...? All you've got to do is ask... and I'm giving you the ability to bring up to THREE guests with you as well... first-come, first-served (provided you aren't on my Black List).
If you want in to see THE INCREDIBLE BURT WONDERSTONE, send your name and your guests' names (remember... you can have up to THREE) in the body of an email to Contests@AintItCool.com with the following subject line exactly (in all CAPS):
ABRACADABRA
If you're missing any of the information I'm asking for, then it's as if you didn't even enter for tickets. Make sure all your guests are going to be able to attend before you submit them. If you're not sure, only put in for those who are a certainty... and let those others you had in mind fend for themselves.
As soon as we're full up, I'm shutting this down, and I'll get the guest list up on the site and start sending out emails with instructions on your attendance.
Even though this is an Ain't It Cool exclusive screening, we will be slightly overbooking to make sure we have a full house, so be sure you can get there early enough to get in and grab a good seat. If you're not sure if you're going to be able to make it though, it's quite simple - don't enter. If you don't think you can get out of work early enough, or if you have class, homework, chores, scheduled surgery, an unreliable car, prior engagements or previous commitments that may prevent you from attending this screening, don't try to win only to let these seats go to waste. We've been having far too many no-shows lately, so if you decide you're not going to go in the event you do win tickets, don't worry about playing again in the future. You're going on my Black List forever and ever... and with some of the other stuff we have coming up, that's not a place you want to be.
Get moving, and good luck, and thanks to Warner Bros. for putting this together with us.
-Billy Donnelly
"The Infamous Billy The Kidd"
Follow me on Twitter.
Like me on Facebook.