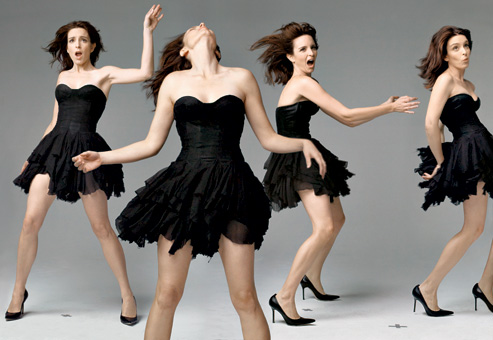 Beaks here...
Tina Fey be bookin' movies. About adults spending time in their childhood homes.
A few weeks ago, the 30 ROCK creator signed on to star in (and produce) Jason Moore's THE NEST, which is about two thirtysomething sisters who reunite for one last weekend in their parents' house. Now, The Hollywood Reporter sez she's in talks to co-star alongside Jason Bateman in THIS IS WHERE I LEAVE YOU, which centers on four siblings spending a week under the same roof at the request of their recently deceased father. Hurm.
THIS IS WHERE I LEAVE YOU is based on the bestselling, well-reviewed book by Jonathan Tropper, so maybe the material is so strong Fey couldn't turn it down. It will also mark Fey's second collaboration with director Shawn Levy. Still, if these projects are made relatively close to each other, the second film to be released could very well face an uphill publicity battle. I mean, it's akin to Peter Weller starring in both LEVIATHAN and DEEP STAR SIX! What a mindfuck that would've been!
According to THR, Bateman has been reading with some very talented actresses for the female love interest. It also appears that the brilliant Kathryn Hahn, who romanced the piss out of John C. Reilly in the Oscar-winning STEP BROTHERS, will play Bateman's sister-in-law. Nice cast. I do believe I'm looking forward to this one.