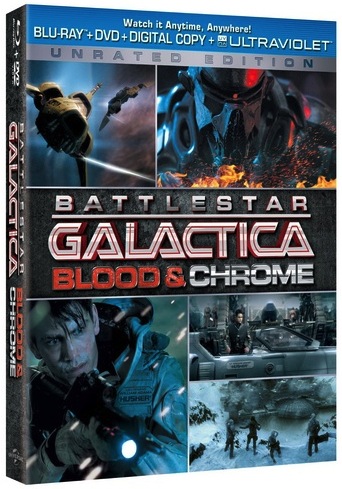 The Kidd here...
Okay, BATTLESTAR GALATICA fans... have I got a treat for you today. Universal Studios Home Entertainment has set me up with a big handful of Combo Pack copies of the series spin-off film BATTLESTAR GALACTICA: BLOOD & CROME, and... well, frankly, what am I going to do with that many copies of the same thing? I'm putting up for grabs for you.
Beginning at 12:01 a.m. EST on Tuesday, February 26, I'll start accepting your emails for nearly 24 hours to win one of these Blu-ray Combo Packs. I have pre-selected SIX random times throughout the day, and, if your email comes to closest to that one of those designated moments, then BATTLESTAR GALACTICA: BLOOD & CROME is all yours.
Oh, and I almost forgot... to sweeten the pot even further, out of all those winners, if you are the one who is absolutely closest to your time, you'll receive BATTLESTAR GALACTICA: THE COMPLETE SERIES on Blu-ray, too. How's that work out for you?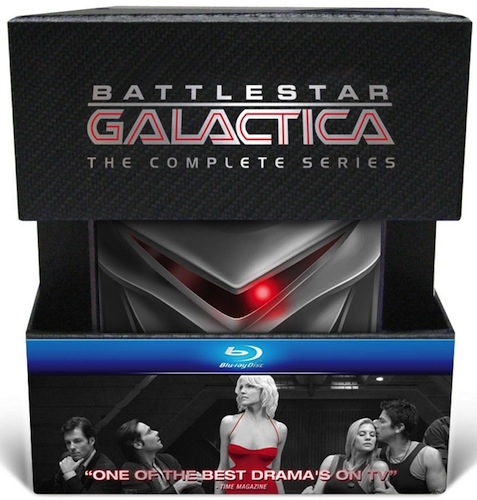 UPDATE: I finally had a chance to go through all the entries and pull the six entries, which landed closest to the pre-determined times throughout the day, and here are your five runners-up:
Danny Hollinger
Hank Giford
Paul Kalamas
Paul Sherrard
Bill Wilson
And, as for the grand prize winner of BATTLESTAR GALACTICA: BLOOD & CHROME in addition to BATTLESTAR GALACTICA: The Complete Series, all on Blu-ray, landing just two minutes off from a bulls-eye, more near than our other winners...
Congrats to all of our winners on a lucky job well done, and thanks to Universal Studios Home Entertainment for setting this up with us.
-Billy Donnelly
"The Infamous Billy The Kidd"
Follow me on Twitter.
Like me on Facebook.