Ahoy, squirts! Quint here with today's Behind the Scenes Picture.
Mia Sara… oh, my darling lovely Mia Sara. In my 10 year old brain it was Ferris Bueller Mia Sara and Labyrinth Jennifer Connelly battling it out for the honor of being my wife. In my teen years it went more to Fast Times-era Phoebe Cates and Career Opportunities-era Connelly, but let's remember the good ol' innocent days, shall we?
Ferris Bueller's Day Off is one of the most rewatchable films of the '80s and that's saying something because they made a whole lot of movies in that decade that I have watched on repeat throughout my life.
I have a hard time ranking John Hughes movies, but if someone decided the one I've seen the most was my favorite then it'd be Ferris Bueller. However if you asked me to rank any of his films above Planes, Trains & Automobiles I don't know if I could. It's such a wonderful problem to have with a director's filmography, isn't it?
I'm not exactly sure what's going on in this pic from the set of Ferris Bueller's Day Off, but it seems like everybody is toasting Mia Sara who is about to get a pie in the face.
Thanks to @Todd_Spence for the shot! Enjoy!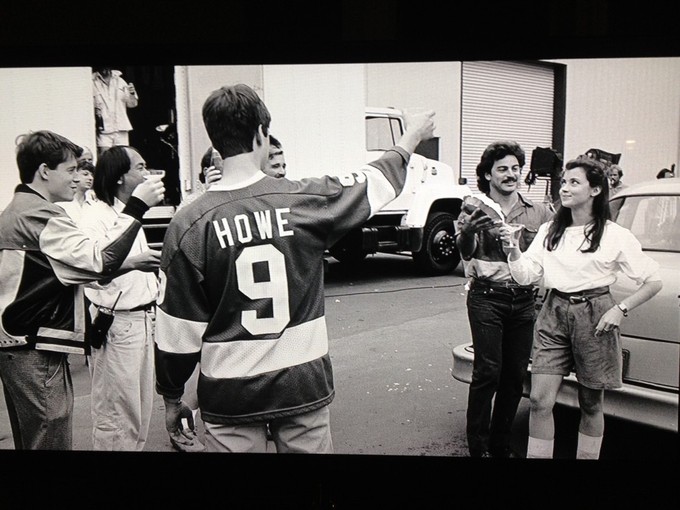 If you have a behind the scenes shot you'd like to submit to this column, you can email me at quint@aintitcool.com.
Tomorrow's pic features legendary tough guy Jack Palance spying on a pair of boobs.
-Eric Vespe
"Quint"
quint@aintitcool.com
Follow Me On Twitter
I've got a lot of maintenance work to do on the previous BTS articles, but you can visit two pages worth of images (beware of some broken links thanks to the last server shift): Click here to visit Page One and Click here to visit Page Two