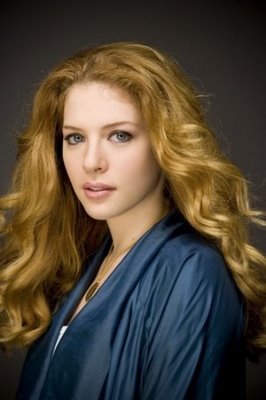 34-year-old Rachelle Lefevre (Victoria Sutherland in the "Twilight" movies) has been cast in "Under The Dome" as investigative reporter Julia, presumably a surrogate for newspaper editor/publisher Julia Shumway, an ally of military vet Dale Barbara in Stephen King's novel.
While the miniseries Julia is described as married and new to the mysteriously dome-covered municipality, the book's fortysomething Julia Shumway is single and a longtime resident of Chester's Mill, Maine, having inherited the local newspaper from her father.
Julia is presumably the last of the major characters to be cast in "Under The Dome," the 13-part miniseries CBS miniseries based on the massive 2009 Stephen King novel about a town suddenly and mysteriously surrounded by an invisible, spherical and inescapable force field that cuts it off from the rest of the world.
Lefevre joins Mike Vogel ("Cloverfield"), who plays Dale Barbara, and Dean Norris (Hank Shrader to "Breaking Bad" fans), who plays evil local car dealer Big Jim Rennie.
Niels Arden Oplev (who directed the original "Girl With The Dragon Tattoo") helms at least some of the 13-part CBS miniseries from teleplays by Brian K. Vaughn ("Lost").
It premieres on CBS June 24.